Watch this amazing time lapse video!
Journey of a Lifetime.
Like many people who had vacationed in Orlando, Florida, Matt and Alison Beech had returned home imagining what it would be like to own a home in the 'Sunshine State'. In 2014, after over 20 years of holidaying in the state, the couple from Colby, Isle of Man decided to 'check out' of the hotel system forever and invest in a vacation property of their own.
Matt, an already successful business owner had spotted a distinct gap in the market. He was aware that whilst the couple could use the property for their own personal use there was potential to use it as an investment and rent to other holiday makers for the periods it was empty.
Matt Beech's own family experience was invaluable, "Coming from a large extended family myself, I could see the potential in building a large luxury mansion home within a fabulous resort close to Walt Disney World.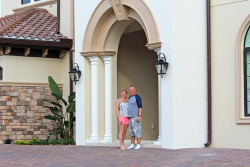 A property that would be able to offer the multi-generational groups of travelers of today an incredible holiday experience. It's not just mum and dad taking the kids on holiday nowadays, we're traveling with grandparents, uncles and aunts, friends and their kids and its much more cost effective and manageable to do that by renting a large vacation home to accommodate everyone under one roof."
Matt and his wife Alison began their search in April 2014 and it was during their fact-finding visit to the area that they first met Jerry Barker and his team. Jerry's comprehensive and encyclopedic knowledge of the Orlando vacation home market proved invaluable to the couple and it was with his help that they were quickly able to identify a resort that fitted their criteria and was perfect for their needs."Reunion Resort offers so much choice, for all ages. It's an incredible place and the facilities are first class.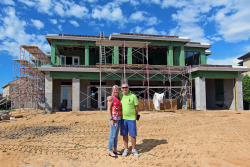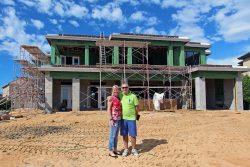 It's the only resort in the world to offer three signature golf courses by Jack Nicklaus, Tom Watson and Arnold Palmer, as well as an on-site water park, tennis courts, spectacular dining, a spa and hotel all within 30 minutes drive of Orlando International Airport and just 10 minutes from Walt Disney World."
Jerry then stepped the gears up and steered the couple effortlessly through the process; finding a plot of land, negotiating the purchase, appointing a builder, introducing an architect and finally sourcing the right interior designer for their style. Within just 5 weeks the land was theirs, plans had been agreed and the designers were appointed, Jerry had even introduced them to a group of Management Companies that would market and maintain the property once it was ready to be placed into a rental program.
Once the project was underway things moved very quickly and Jerry was there to bridge any gaps or concerns the couple had. Alison Beech noted, "Any worries we had about building a home thousands of miles away were soon dismissed. Jerry was our eyes and ears on the ground. It was all about personal service – he was there at a moments notice to do whatever we needed him to do".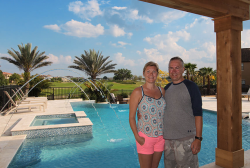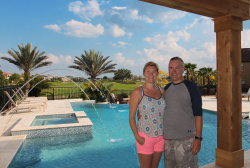 The builder, Triton and interior designer, Suzanne Nichols along with all of the teams involved in the build process were incredible. Just 12 months on from their fact finding trip the project is complete and the Beeches have their luxurious holiday mansion. The 8 bedroom, 9 ½ bath residence with lavish and spacious living areas can accommodate 24 people at one time and the pool deck, complete with spa, waterfall and fire pit offers guests unlimited golf views and a true resort style living.
Both Matt and Alison are absolutely thrilled with the finished project, "We believe we have created a truly outstanding vacation home. It's been an incredible journey from beginning to end, exciting, enjoyable and very fulfilling. We hope to continue our love affair with Orlando for years to come and its all the more sweeter to know we can do it in our own vacation home".
Rental prices for the Malitta Mansion range between $8,500 and $15,000 per week and air routes are frequent and competitively priced with several daily flights from Europe.
Visit the Beech rental home page for rental information HERE.
The Jerry Barker Group can assist you find the best lot, the most suitable builder and home designer. We work with all parties on your behalf to make sure you get the very best home design and location to maximize the return on your investment.
We have built and own a home in Reunion as well as building many for clients. I am personally confident you will be delighted with your decision to build a home in Reunion and that you will be thrilled you chose to make us part of the team.
Contact us to discuss building a new home in Reunion.
Jerry Barker
New Reunion Home Specialist
(001) 407-286-8169