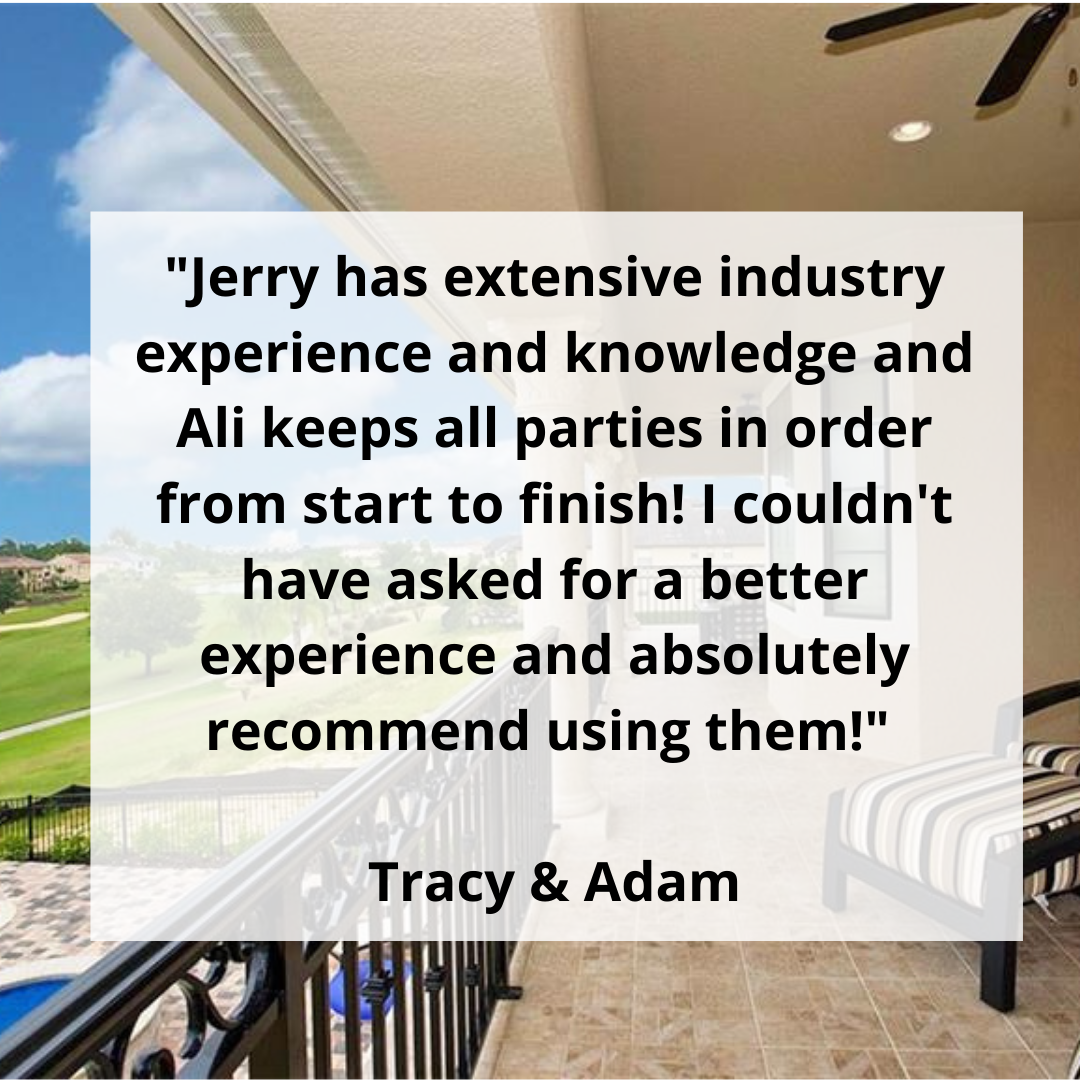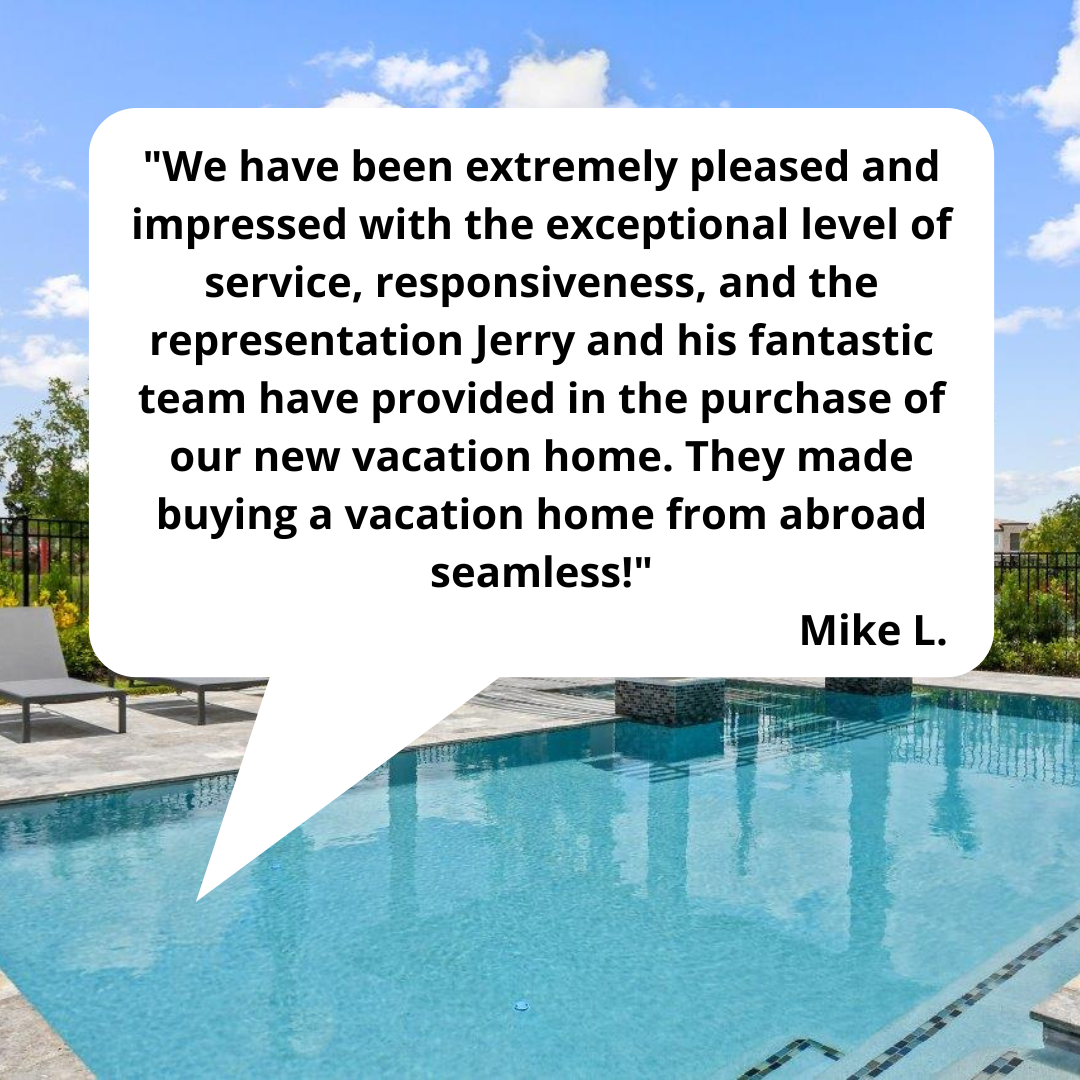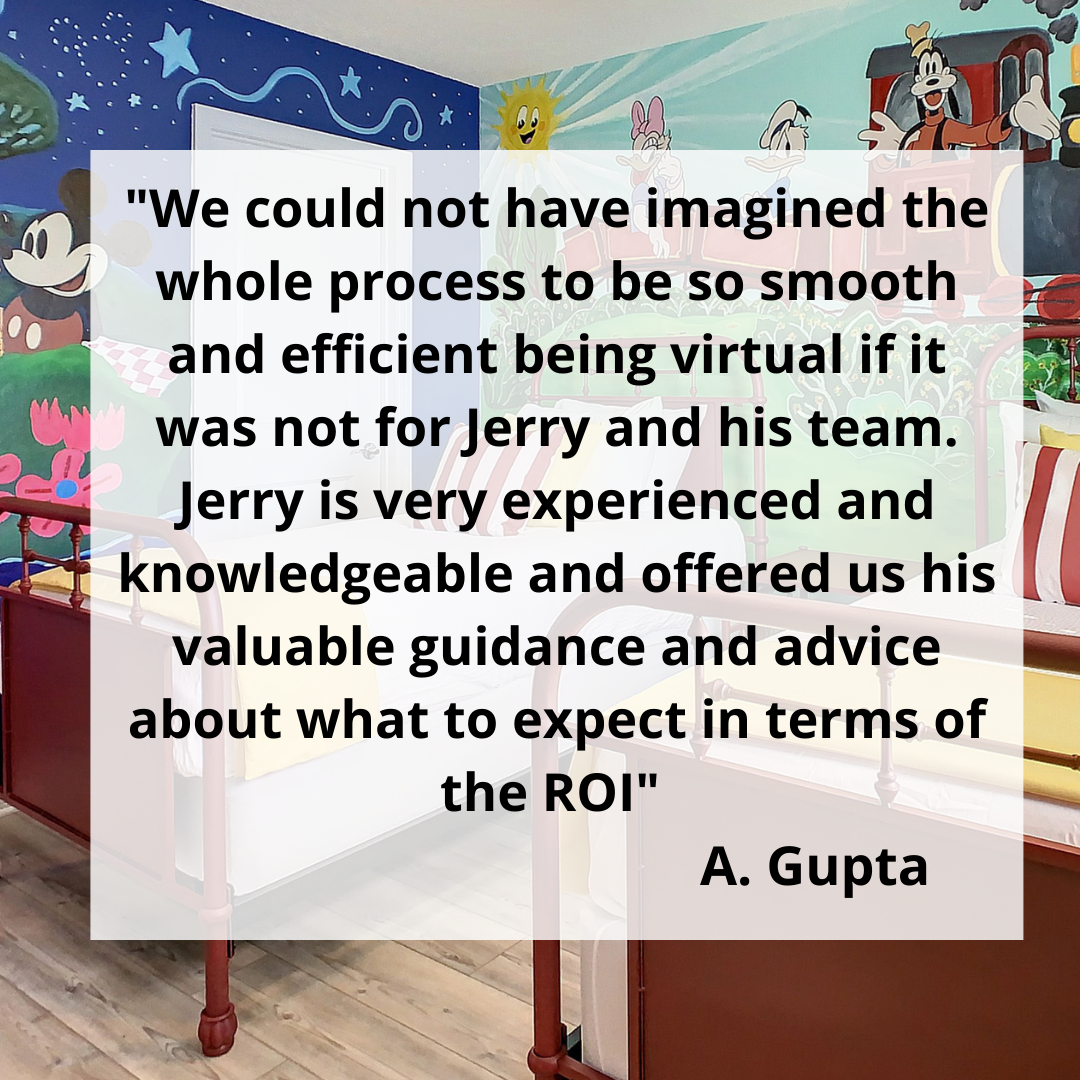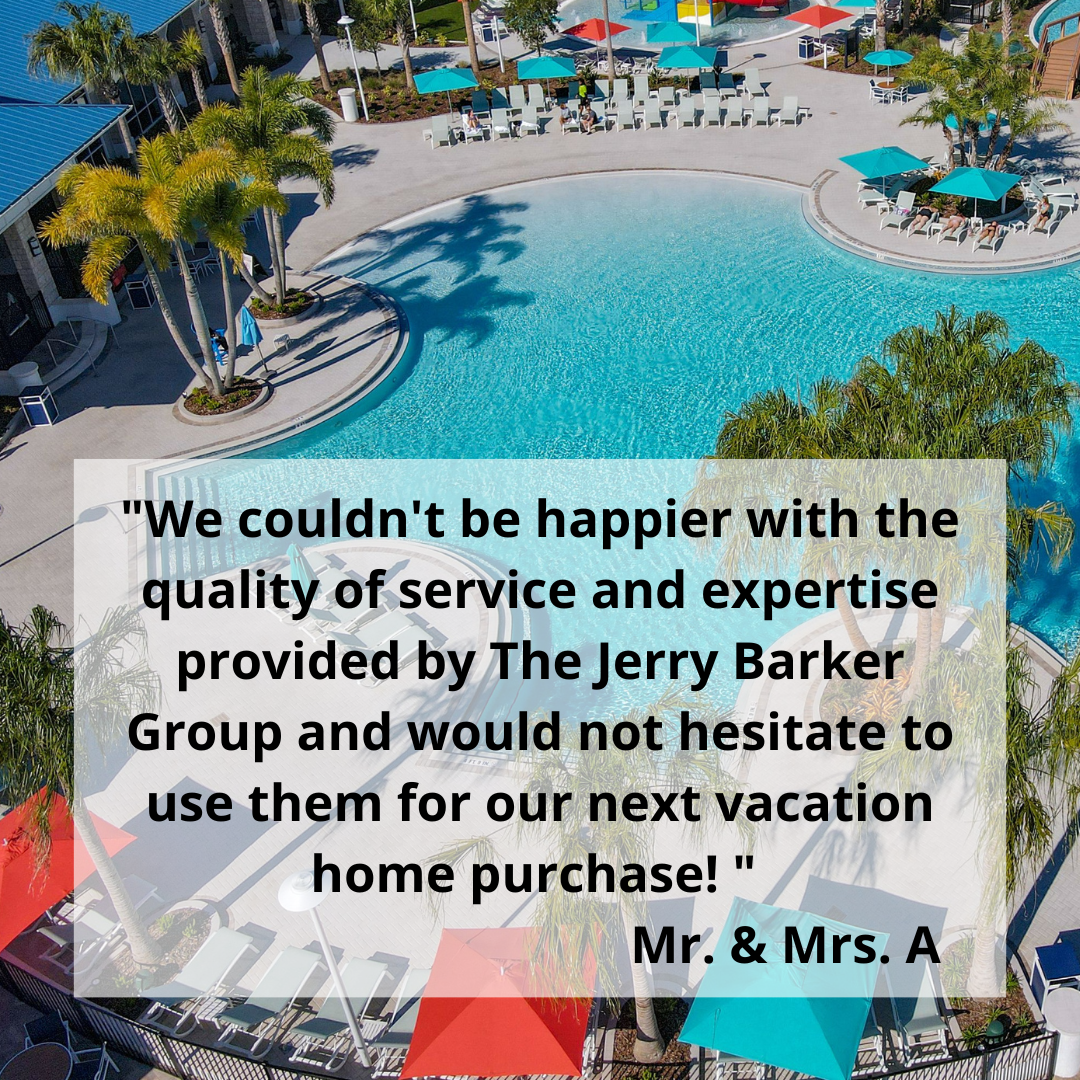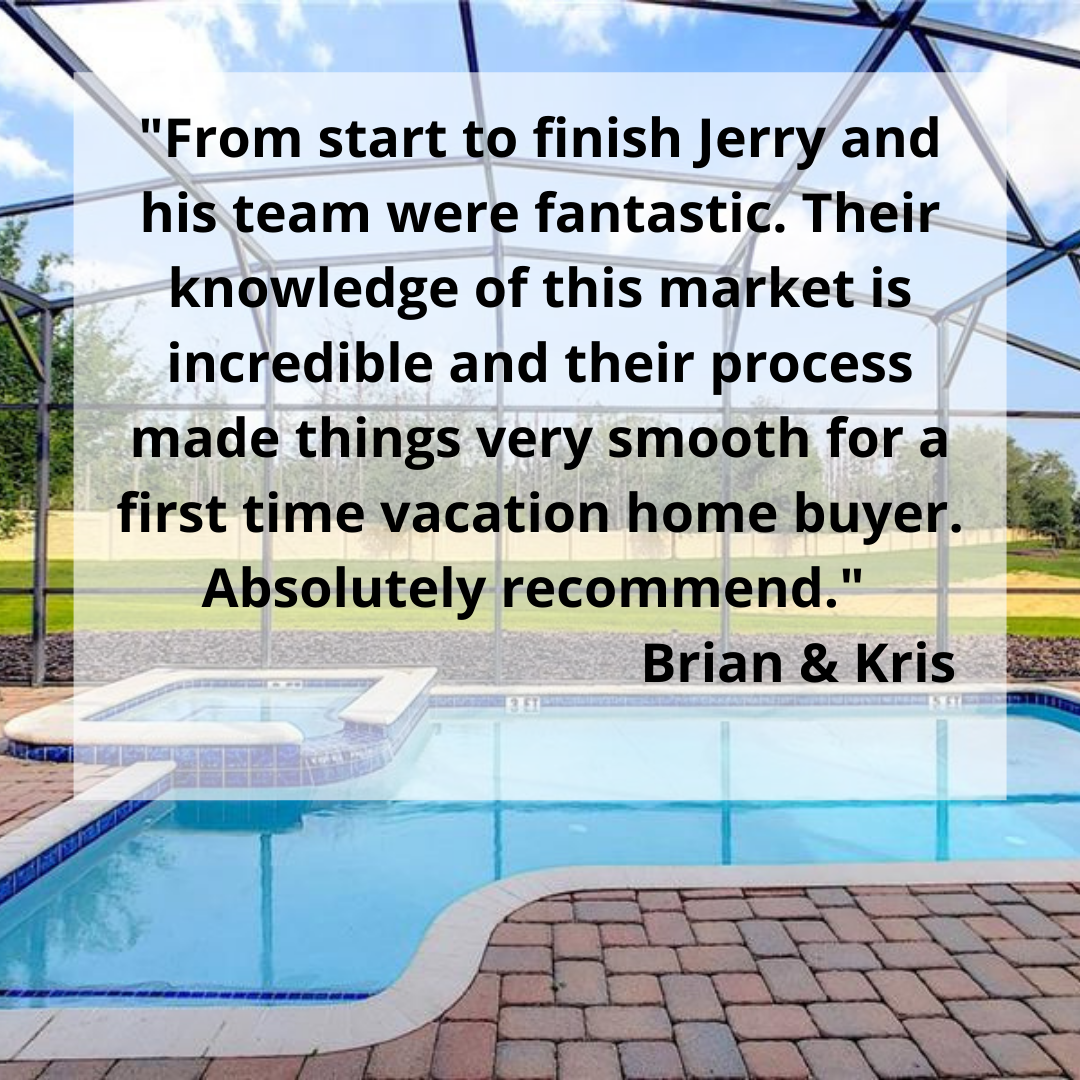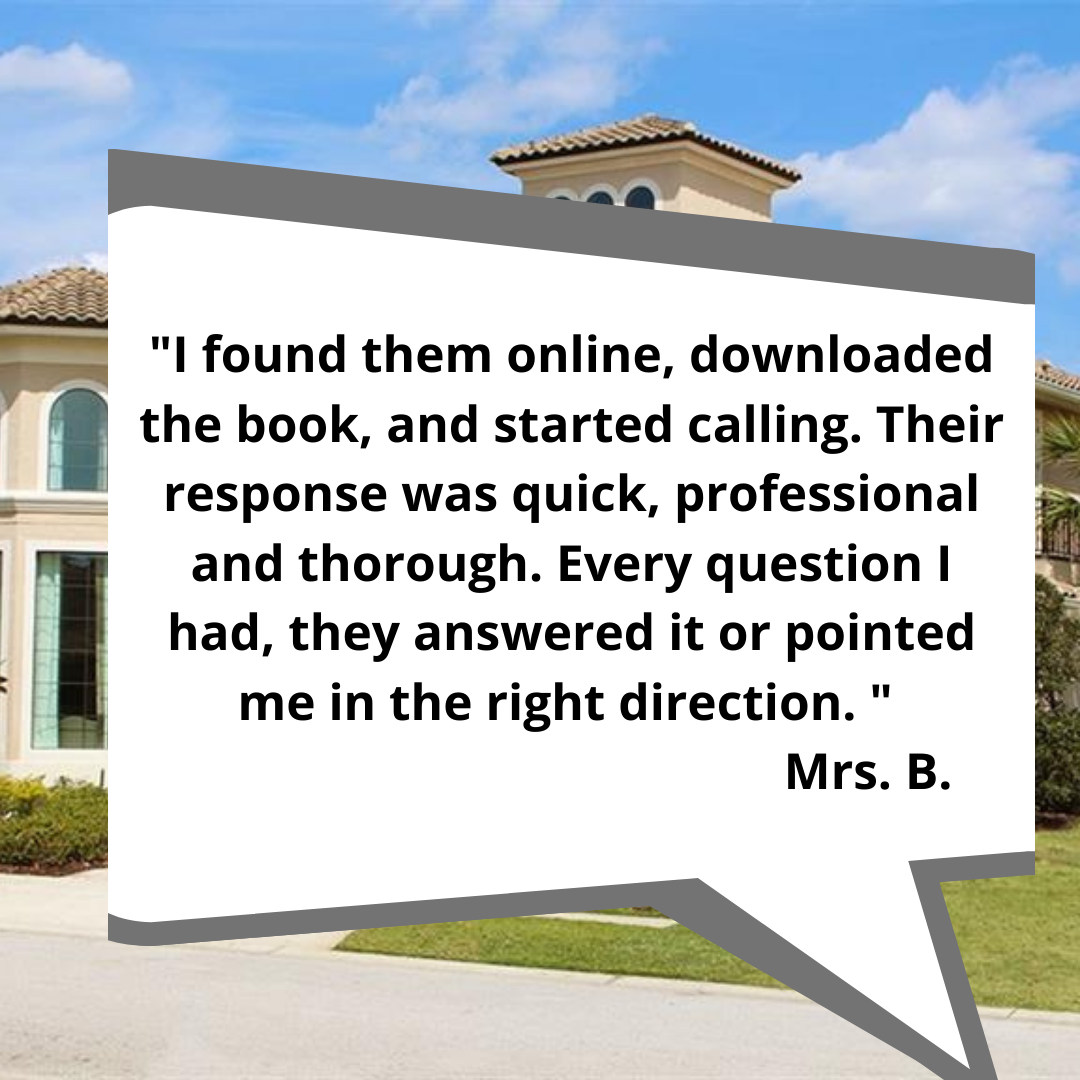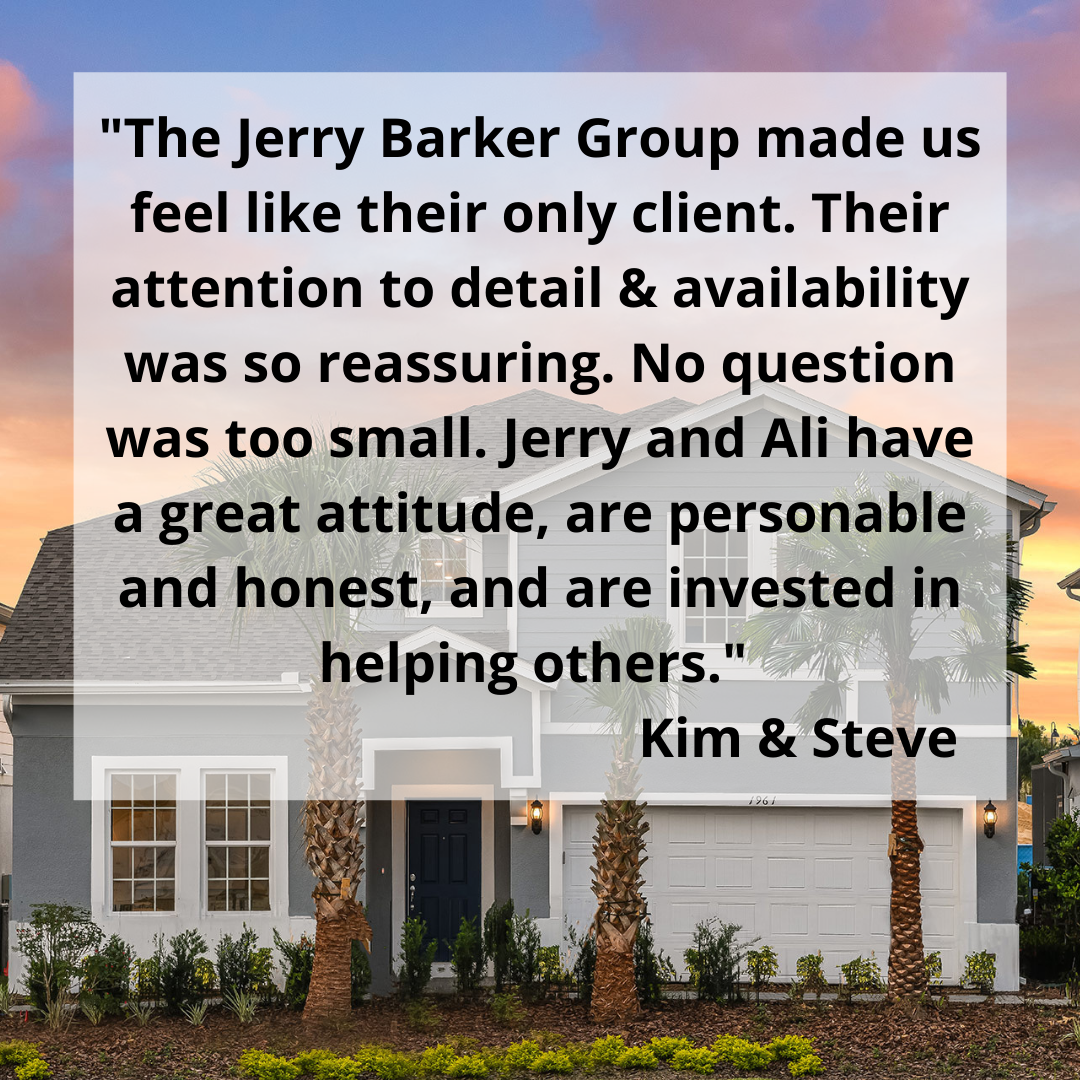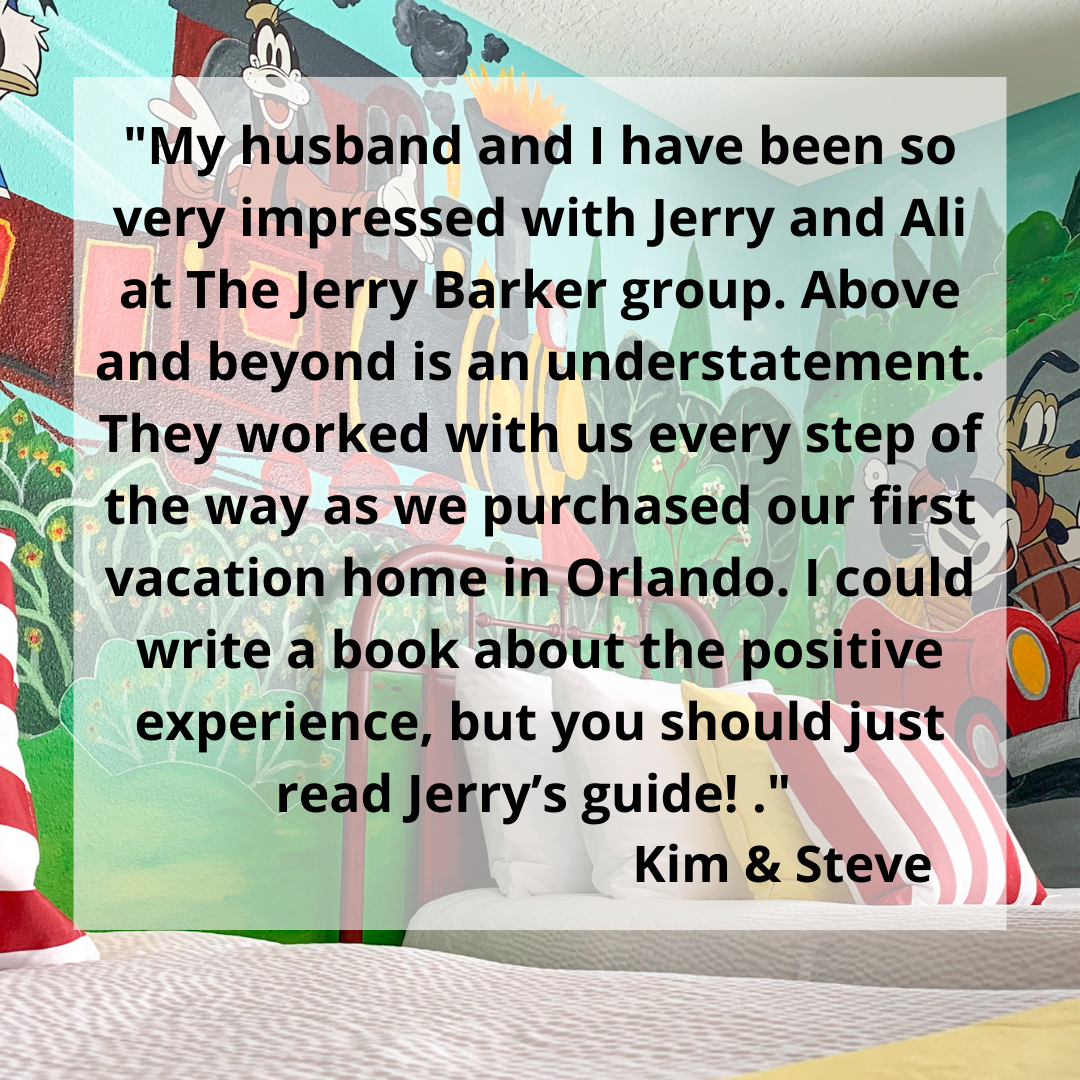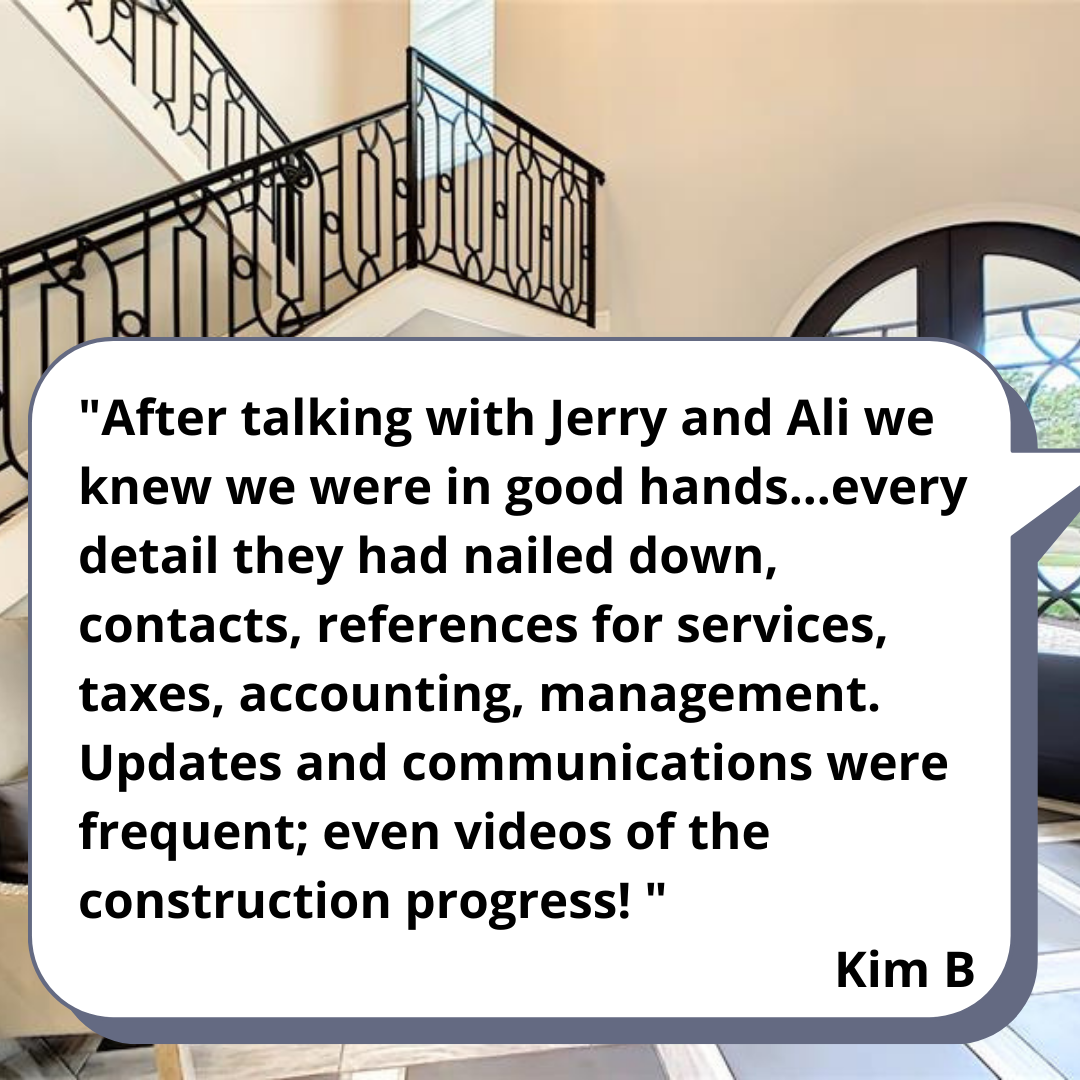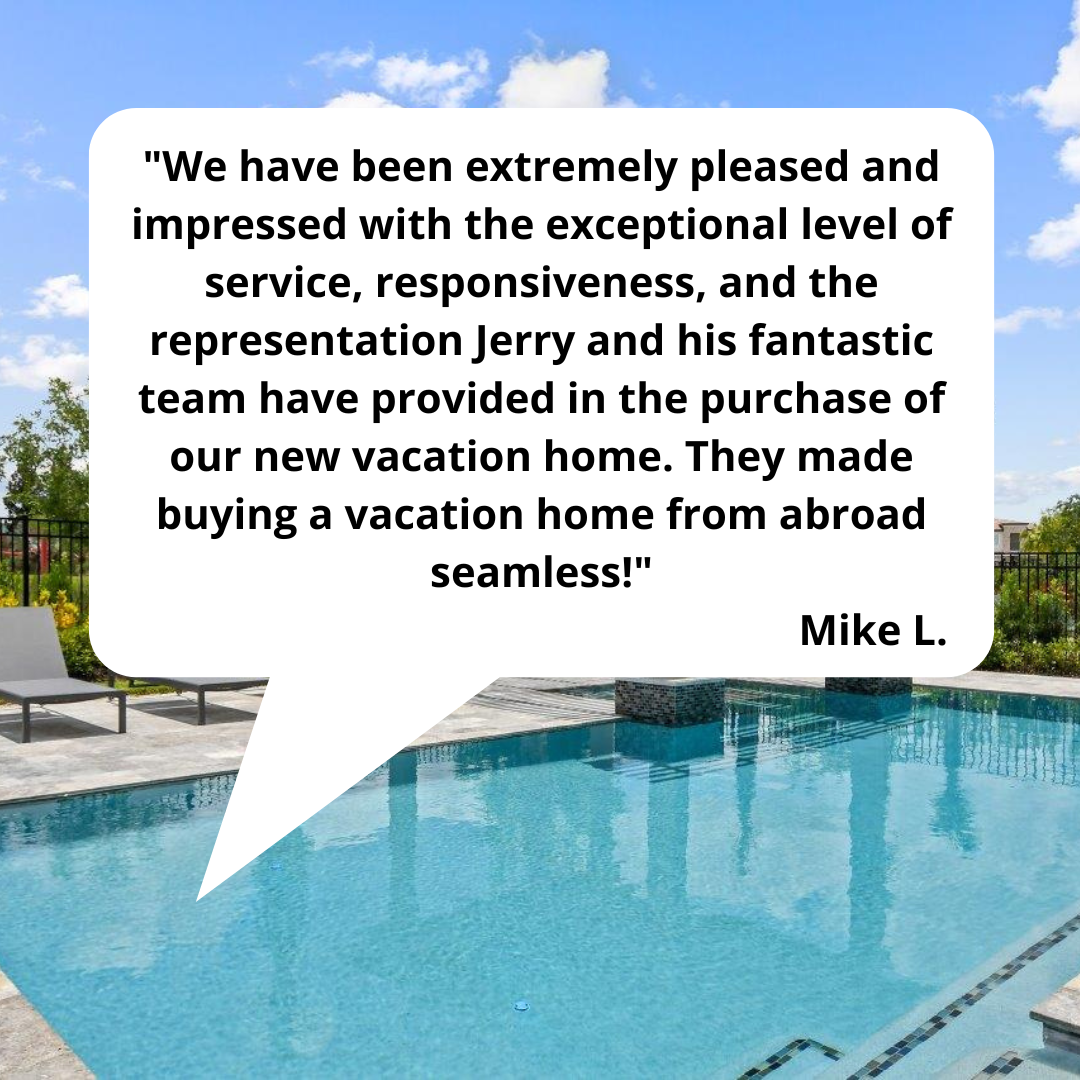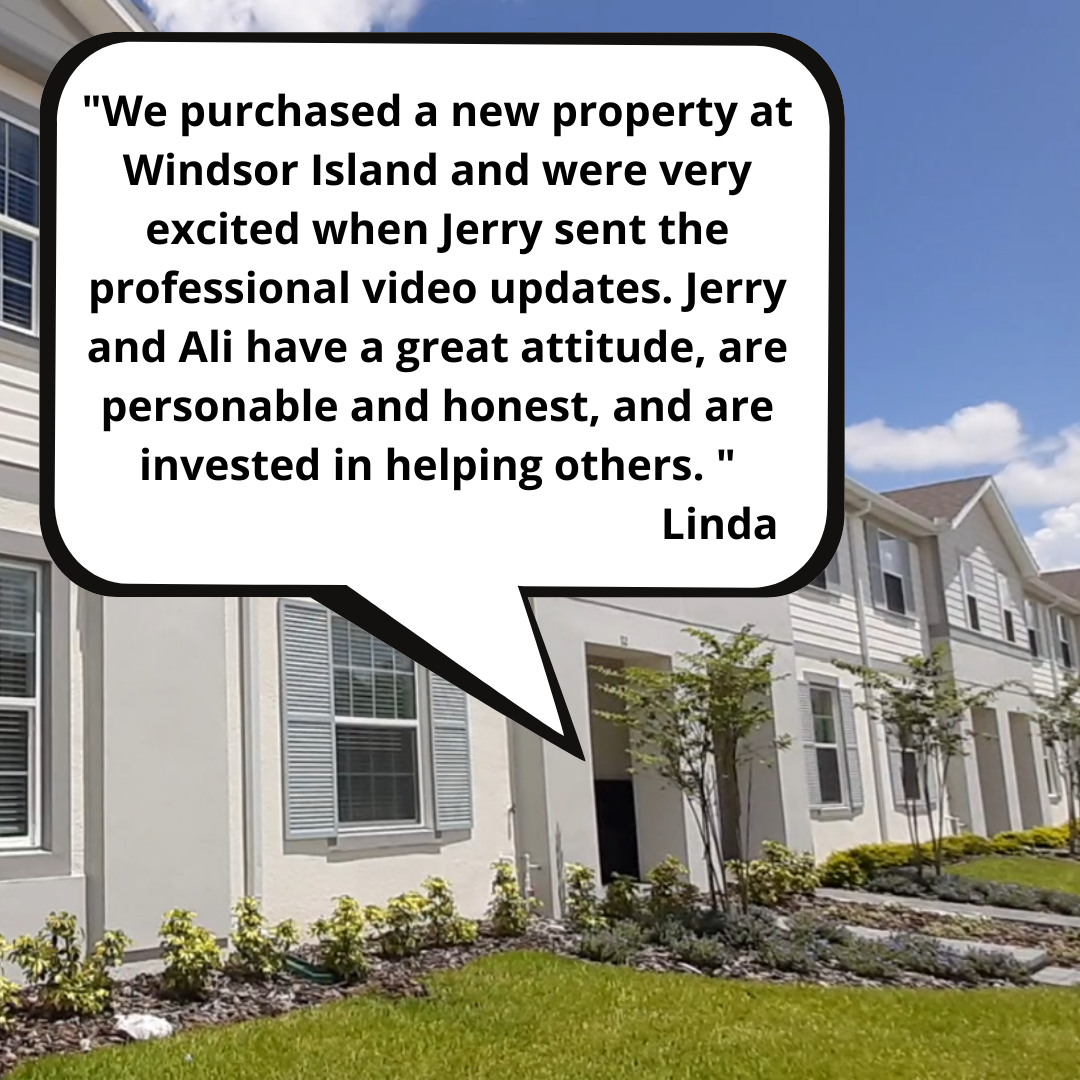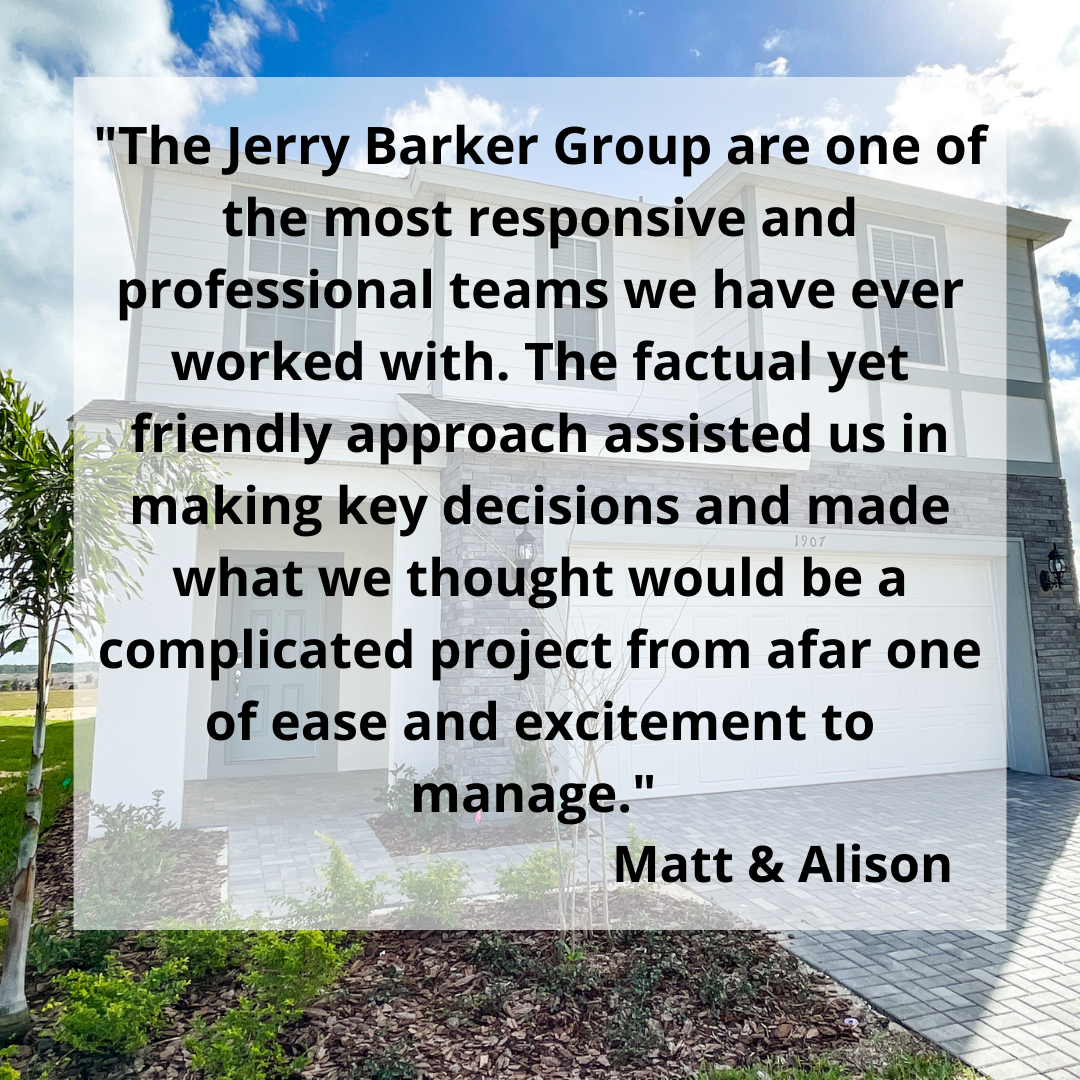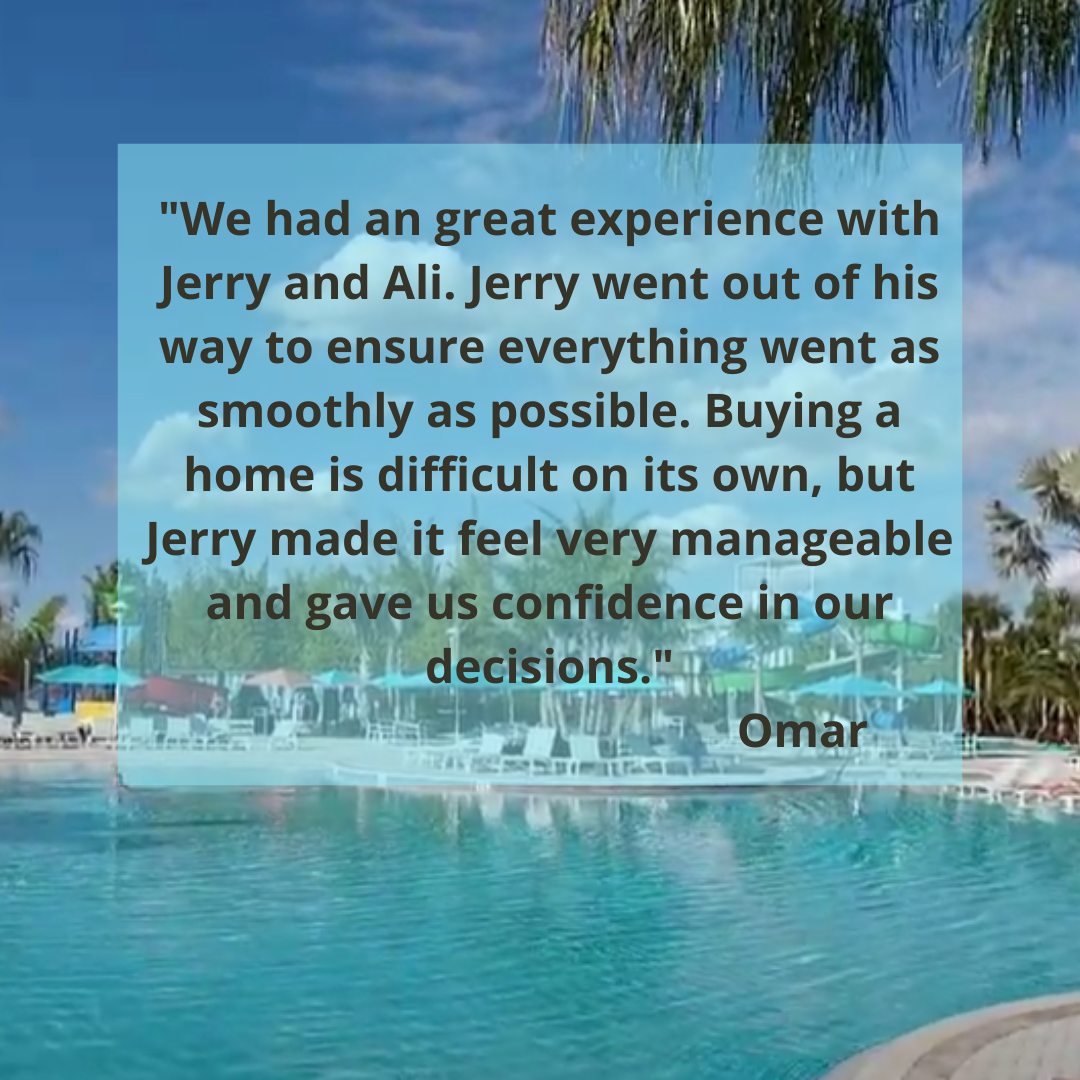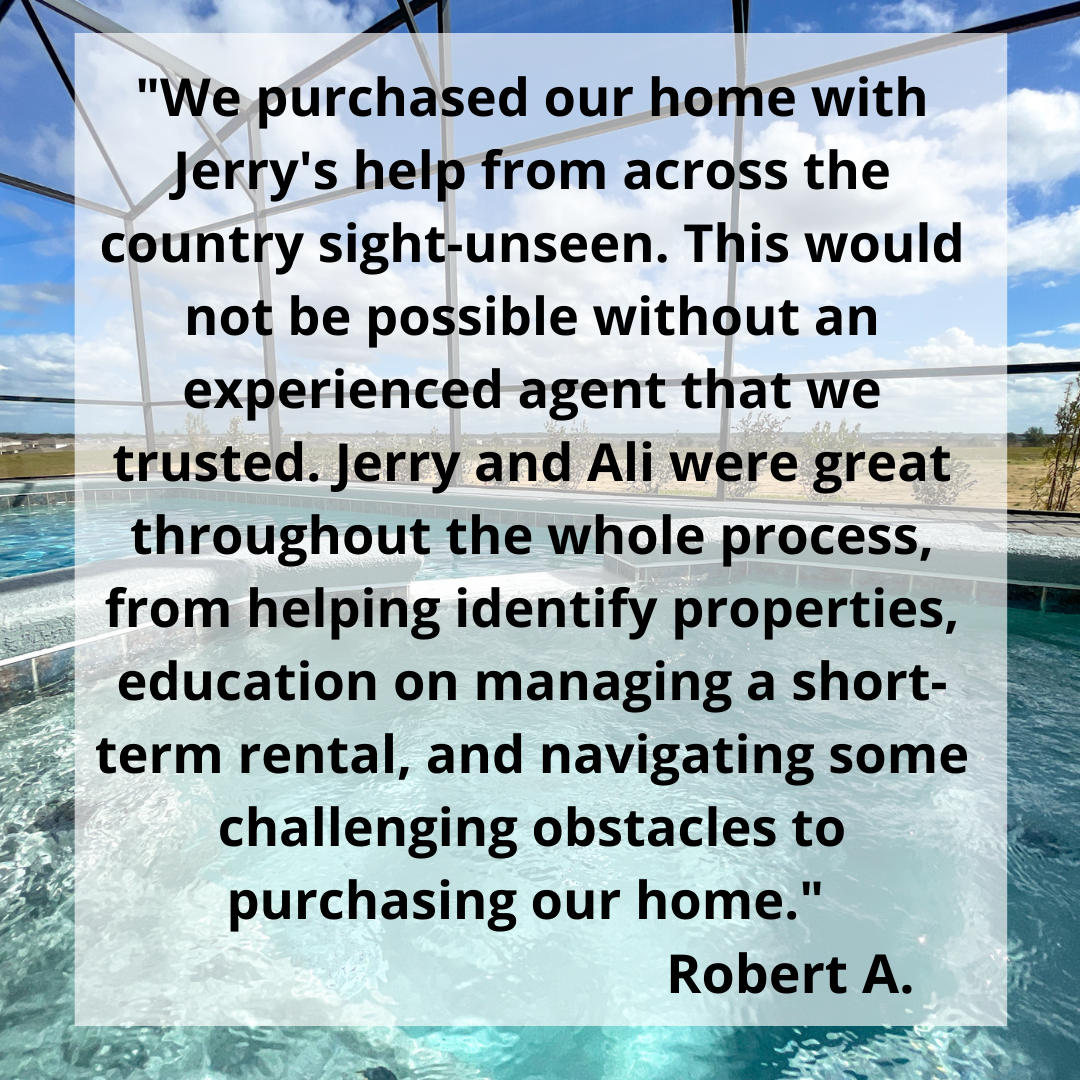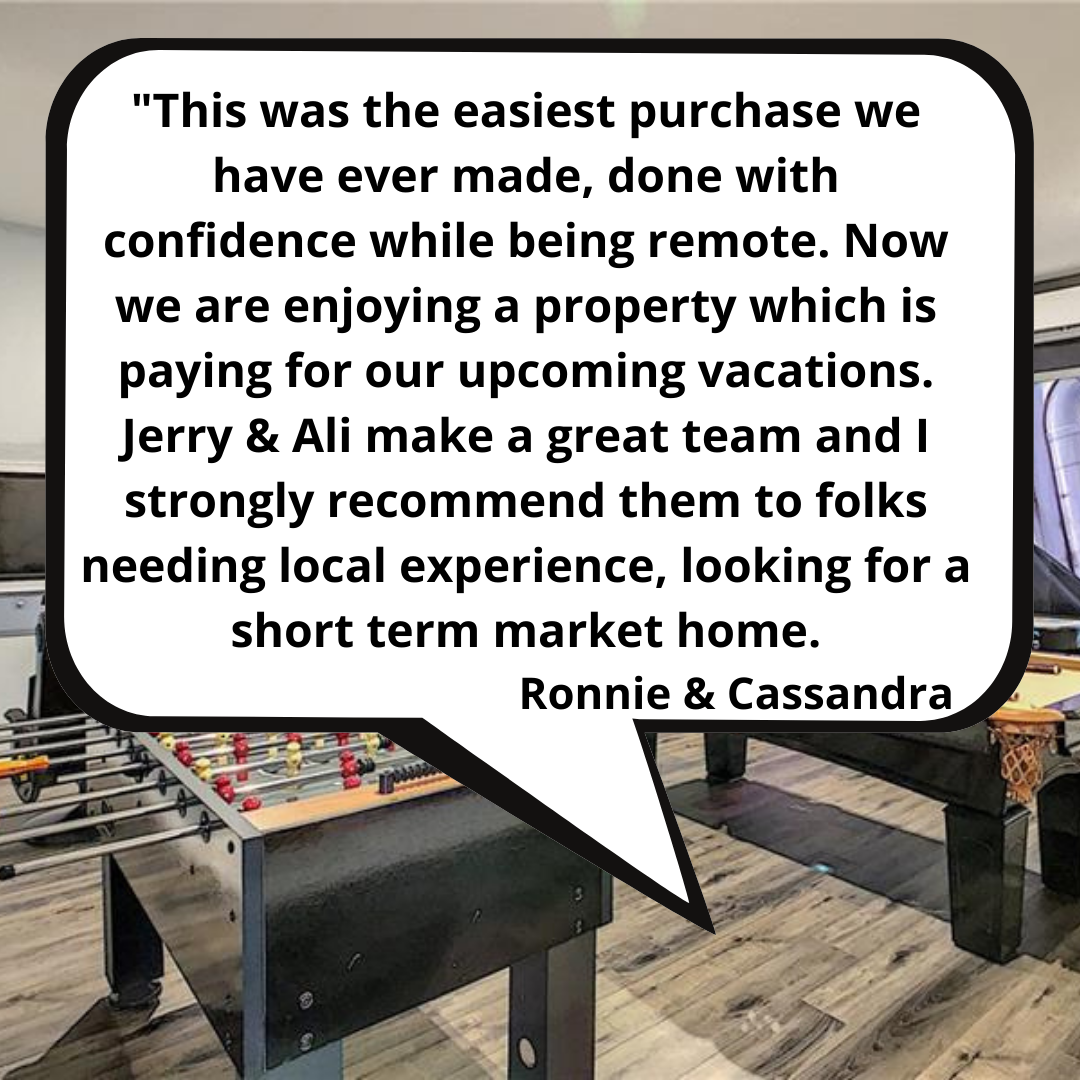 Your investment is reliant on the experience, knowledge and integrity of your choice of representation.
"Whether you decide to work with our team or any other, please make sure you work with someone who is experienced.
Having helped many hundreds of international buyers purchase homes in Orlando and having experienced first hand all of the elements that go into making the purchase of a vacation home a success – there is nothing more important than having someone representing you who knows what they are doing."
Jerry Barker,
Founder of the Jerry Barker Group of Vacation Home Specialists
Testimonials in Detail
My husband and I have been so very impressed with Jerry and Ali at The Jerry Barker group. Above and beyond is an understatement. They worked with us every step of the way as we purchased our first vacation home in Orlando.
Initially we were very nervous purchasing a home in a different country and not being able to physically be there, but after talking we Jerry and Ali we knew we were in good hands, and we really were! Every detail they had nailed down, contacts, references for services, taxes, accounting, management. Updates and communications were frequent; even videos of the construction progress!
All bases covered and when there were unforeseen hiccups with financing out of country, they jumped right in and helped get resolution. I could write a book about the positive experience, but you should just read Jerry's guide!
Feel free to contact me if you would like a reference directly.
Kim and Steve Byrd
Ontario, Canada & Windsor Island
---
I can't say enough great things about working with Jerry and Ali. From the minute I reached out to them, they were proactive, eager and very knowledgeable. Jerry has extensive industry experience and knowledge and Ali keeps all parties in order – from start to finish! I couldn't have asked for a better experience and absolutely recommend using them!
Tracy and Adam
Encore Club and Charlestown, MA
---
Family dream come true. When each of our kids turn 12, they get to pick a place in the lower 48 states to go to with just mom and dad. Suffice it to say, with 8 kids, we've been to Orlando a few times now. In 2013, we stayed at Floridays and the thought of ownership was lit in my mind. I've been saving now for over the past several years with the hope of buying something that our now-almost-all-out-of-the-house-kids can enjoy, along with being able to earn some income.
I thought my dream might go bust when we took in my elderly parents, started caregiving 24/7, and had no way to get down to Orlando and scope out properties.
Enter Jerry and Ali.
I found them online, downloaded the book, and started calling. Their response was quick, professional and thorough. Every question I had, they answered it or pointed me in the right direction. I was able to purchase a condo without being there, and I did not have any trepidation about it whatsoever. (I may have called them one or two times too many, but can you blame me?? Those accents!!)
I hope to meet them personally one day, but I would say if you want real, expert knowledge, and you want to actually have FUN and enjoy the process of buying a home, you need Jerry!!!
Dawn
Floridays & Lincoln, NE
---
Buying a property in Florida from Ireland during a pandemic could have been tricky, but Jerry and Ali not only made it possible, they made it easy. Recognizing exactly what we were looking for; finding the perfect property; providing video walk throughs; talking us through every step; and putting us in contact with the right service providers – everything was covered.
As overseas buyers, the process is different from what we are used to. We avoided any complications or mistakes through great service from genuine people.
Simply could not recommend them enough.
Neale and Neta
Watersong and Northern Ireland
---
My wife and I contacted Jerry about looking at several homes for sale in Windsor Hills, Kissimmee. Within a day he had several homes for us to look at. He and his assistant Alison were very attentive to our needs and helped us through the whole purchase process painlessly. I highly recommend Jerry for your real estate need and he's also a great guy!
Fred & Shelly
Windsor Hills and Milton, DE
---
From the very first phone call with Jerry we knew he was the realtor for us! We were attempting to purchase our vacation home 1500 miles away, and during COVID. We absolutely had to trust the person we would work with and Jerry fit the bill. He steered us away from certain resorts that were not exactly what we needed now and/or in the future.
Jerry took time to hear exactly what we envisioned, what we needed in order for it to work for ourselves, our kids and our very young grandchildren. He was honest about what kind of return on investment we could expect and told us it needed to be a long term goal.
We had only owned long term rentals before so getting into the short term rental market is brand new to us.
Jerry and Ali (his amazing sidekick) walked us through every part of buying but then also advised us on property managers, marketing, updates, etc.
Jerry advised us on what kind of offer to make and it was accepted, we feel like we received a very fair price. Quite frankly, it was a super easy process as Jerry handled everything. We did see about 9 properties before making our offer, but once we made it, we went out to play while Jerry did the hard lifting.
Ali and Jerry were there for us during the remote closing, most of which was very smooth with one bump in the road (that had to do with the notary). He had told us not to come to town for the closing and that turned out to be very good advice (as was the rest of his advice)!
We showed up about a week after closing and Jerry came to visit. We feel like we have made a life long friend and we are already bringing friends to talk with him.
The best experience one could imagine when investing in a vacation home!
Tina and Duane
Paradise Palms and Papillion, NE
---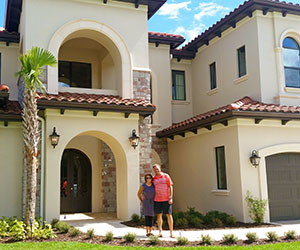 Jerry-
Thank you for making a small dream of our families come true.
Our road started 4 years ago when we stayed in a vacation home in Reunion-that is when the gears started turning on the kind of opportunity vacation homes could provide to our family.
We found you on the internet by chance (well, lets be honest, you are all over the internet, so you are very easy to find!), and from the first phone call you never told us what to do, but you were the best sounding board to help lead us down the right road to make sure everything from where we built, to whom we built with, to who managed our property was designed perfectly for us and what we wanted to get out of this opportunity for personal use and for rental.  Trust me, we talked to many realtors and builders, you are a true vacation home specialist.  We had a lot of ideas, you took us all around Orlando, you helped us decide the size and location of the house based on what was best for us.
We are so glad this road took so long, because it was necessary for us to take it to get the end result. We are so thankful for your patience, and drive to make sure that when all was said and done the house we built was everything we could have dreamed of.  Building a home from afar is not easy, but between your updates, aerial photos, and the long video walk troughs of the progress on the house you helped make it like we were there the whole time. We stayed in it for the first time last month.
We have had friends and associates stay in it as well.  All of them, including us, didn't want to leave the house, and instead of doing all things in Orlando, we all didn't even want to leave the house! We couldn't have done this without you, and after it is all said and done, we are happy to call you our friend.  Thank you for helping us create the house we love to call "Morlando!"
We look forward to you stopping by and enjoying a Guinness next time we are down there!
Brad and Lisa
Reunion and Minnesota Golden Gophers  
---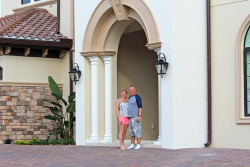 The Jerry Barker Group are one of the most responsive and professional teams we have ever worked with.
Right from the beginning we were met with true enthusiasm and dedication. The factual yet friendly approach assisted us in making key decisions and made what we thought would be a complicated project from afar one of ease and excitement to manage. We're not usually over enthusiastic with testimonials but on this occasion it would be a shame to not give praise where praise is due.
We've made good friends with the Jerry and his family over the past year and cannot thank them enough for sharing with us a vision and journey to build a truly fabulous property.
Thank you!!
Matt and Alison Beech
Isle of Man and Reunion
---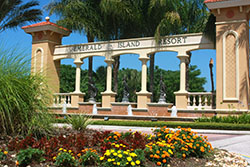 We first met Jerry at the Place in the Sun expo in Manchester 2015 and at the time we had been looking to purchase a property in Spain. We came away from the show thinking that Spain might not be the right place for us and that Florida may be a better option having holidayed there many many times. We met a number of realtors at the show but Jerry stood out from the rest not just because of his knowledge of the Orlando property market but because of his friendly non invasive manor and dry sense of humor.
We finally got to make a trip out to Florida in June 2016 prior to which we had exchanged many emails and calls with Jerry to put a plan together. We had decided that we wanted a short term rental property (STR) so his knowledge was invaluable. We would email property details and Jerry would come back straight away as to whether the property was an STR or if there was any other factor we should be aware of. During the trip Jerry took us to see many properties and although we weren't successful he did help us clarify exactly what we were looking for.
We returned to Orlando in March this year having narrowed our search down to 2 properties. Jerry made sure that we had viewings set up and he had background information on the properties. Having facilitated our final deliberations and smooth purchase we are now the proud owners of our perfect villa in the Emerald Island Resort.
Thanks for everything Jerry, including the many amusing stories on our trips around the Orlando area. We would recommend your services 110%!
David & Nikki
Emerald Island & Manchester UK.
---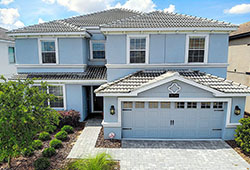 Our search for a vacation home started by throwing a broad net over the state of Florida. After a year of research we started focusing on Central Florida and by luck, landed on The Jerry Barker Group website. We used his site for quite a few days before picking up the phone to meet the man that was about to become our mentor. Jerry generously gave us his time to talk through our questions, concerns and goals, which eventually led to our first visit to the area.
Traveling from a distance, Jerry was sensitive to the fact that our time was limited and worked with us ahead of time to ensure we maximized that first visit. He helped us narrow down our search by throwing out targeted questions and strategically responding to the answers we provided him. By the time we arrived in Orlando, Jerry had a very good understanding of what we were looking for and graciously spent the day giving us a comprehensive tour of the area.
When we were ready to submit an offer, we saw the other side of his skill set. The former owner of our property resided in a foreign country, which presented a few bumps that we had never experienced before. Throughout the process, Jerry kept us informed of any red flags that caught his attention and the potential impact to our closing. It was a nail-biting experience for us and one we would have walked away from if we did not have a "friend" helping us along the way.
This testimonial has a very happy ending and we now own that vacation home in Florida. Jerry continues to reach out from time to time to check on us and continues to help us out with questions or resource referrals. If you are reading this to decide if The Jerry Barker Group is a fit for you, I encourage you to give him a call and talk through your goals like we did. You won't be disappointed and I guarantee you will enjoy that first conversation (he is a lot of fun too!).
Doug and Darlene Glaze
Missouri and Championsgate
Read Darlene's Blog on Vacation Home Buying.
---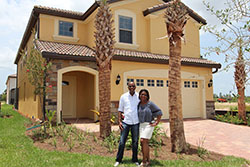 We were referred to Jerry by our good friends who told us "You have to use this guy".
Of course without any reservation we contacted Jerry and from there on it was the best decision we could have made to suit our purpose. Jerry was very knowledgeable about the real estate market in Florida.
More importantly we found him to be very honest and genuine in his advice on property selection for our needs.
During the entire process from selection of property to closing, Jerry became our eyes, hands and feet in Florida as we were many miles away.
The level of trust we had in him was invaluable and we greatly appreciated his professionalism coupled with genuine care for his clients. We would recommend Jerry to anyone, hands down!
Camille & Alexie
Canada and Windsor at Westside
---
Jerry,
Jim and I want to thank you for all you've done and are still doing to help us acquire and furnish our new vacation home in Orlando.
As we're from the Boston area, and this being a new complex under construction, and an exchange purchase, your expertise and guidance was invaluable. You we're always available and had the answers to our many questions.
From finding the property, the purchase and sale agreement , the walk through, the many pictures you sent to keep us updated, the closing, and the referrals of the management company and of course our decorator who we adore. We feel at this point you are not just our realtor but a friend, I would advise anyone who is thinking about acquiring property in Orlando to seek your guidance. We have never purchased vacation property before and you made it seem so easy.
Thank You Karen & Jim Smith
Boston and Windsor at Westside
---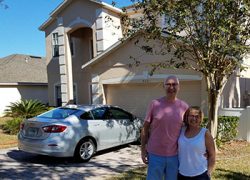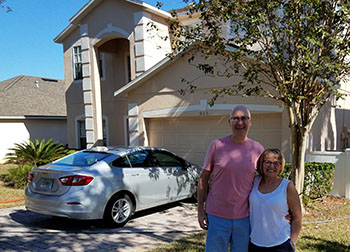 We have been holidaying in Orlando for the past 17 years and had been thinking about buying our own villa in the Westhaven area for many years. We were always a bit apprehensive as we didn't know what was involved. We wish we had known about Jerry sooner.
We are now the proud owners of a 4 bedroom villa in The Sanctuary and it is all thanks to Jerry.
He made it so easy for us. He answered all of our questions – even the daft ones!
He gave us his honest opinion at all times and kept us right at every step along the way.
He took a video of the property at the start as we weren't able to travel to Florida.
Jerry has so many reliable contacts. Every single person he put us in touch with has been absolutely superb. He only deals with the best in class whether it is interior designers, accountants, bank advisers, management company or insurance experts.
So thank you, Jerry. And if you are not sure whether you should go ahead with your dream purchase in Orlando then contact Jerry.
That dream, like ours, will become a reality.
Bryan & Julie Chalmers
Scotland and West Haven
---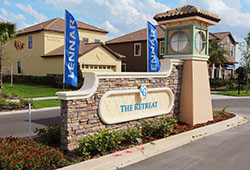 Our dream has been to own a home in the Orlando area and use it as an investment toward our future. When that dream became a financial feasibility we found the Barker Group and Alyssa Barker who woke us up and made the dream a reality.
Beginning with a website that thoroughly addresses the business of personal home hospitality to our close and beyond, Alyssa was there to help. The information packed website addressed many of the questions that we had including that all important question, "Will I make money on this?"
If you don't buy a house through Jerry and Alyssa you owe it to yourself to open every page of their website and learn how to make the best of your home in Florida. Of course, the website made us aware of just how important it is to have the Barker's with us when we went shopping.
Alyssa showed us what we wanted to see, walking us through many homes and communities. Throughout our search Alyssa advised us on market forces that we could not see from our vantage point but she could from her experience in the market. Then she guided us through the process of negotiating and purchasing our dream. If you are buying a home in central Florida, Alyssa knows her business and her market.
In our home purchase, Alyssa negotiated a fantastic price for our home, kept us updated through the construction process, arranged interviews with good, qualified professionals for all of our home and hospitality investment including our mortgage, property management, and a decorator, while giving us much needed perspective for purchasing a home from a distance.
Today, we own the dream!
Thank you, Alyssa Barker and the Barker Group.
George Stephens The Retreat at Championsgate
---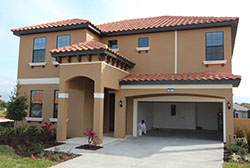 Jerry was referred to us by a friend who had previously worked with him.
Before deciding whether or not to buy a house in Orlando, we had many questions and concerns and Jerry was able to answer all of them in detail and timely manner.
Jerry was friendly and professional and we trusted him from the beginning, and felt very comfortable working with him during the whole process. We got to meet Jerry in person after the project was finished and the contract was signed and we were very happy with the results.
Jerry understood all our needs and made the whole process a lot easier, by helping us also with his network of vendors. Everyone Jerry recommended was professional and efficient. We would recommend Jerry to anyone considering buying a house in Florida. He and his team have all it takes, no need to look further.
P. and E.
Toronto and Rosemont, Providence
---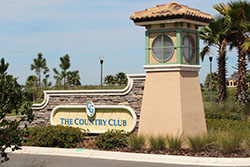 In 2013 we purchased a 4 Bedroom Townhome @ Paradise Palms Resort and thought we couldn't of been happier.
During Easter break of 2014 we had been vacationing at our townhome @ Paradise Palms Resort and decided to visit Lennar's new communities @ Champions Gate.
We fell in love with the new community and the amenities that the community is offering. The value of our townhome had gone up in just 1 year, which made it possible for us to entertain the idea of selling and moving into Champions Gate for pretty much the same price. If we sold our property in PPR we would be going from a 4 bedroom townhome in a rental community to a 4 bedroom home in a private community, this was an opportunity we had to take advantage of.
There were a lot of hurtles we would need to get through if we were going to actually make this move. We are self employed and it took us almost 5 years to get the first mortgage for our property in PPR, so selling would be very risky. We needed someone to help us make sure that we did not sell our property in PPR that we absolutely loved and then be in a position that we ended up with nothing.
In new construction there is also time frames that have to be met and we needed someone to sell our property in a short time frame in order to keep within the contract with the new property. This meant we needed a cash buyer that could close quickly. PPR is a rental community but we did not rent out our property. We had furnished the property and did not want to include the furnishings with the sale of the property. Typically properties that sell in PPR include the furnishings so this was going to be another hurtle to get over. Lastly, sales had been slow in PPR at that time.
The road was not going to be an easy road but we wanted to take advantage of this opportunity so we went to our trusted Lennar Home Consultant and asked her who she would recommend for us to trust with our unique situation and that's when she recommended that we contacted the Jerry Barker Group.
We had reached out the Jerry Barker Group and was contacted by Alyssa Barker and couldn't of been happier. Alyssa is the wife of Jerry Barker so we knew right away we were in good hands. As business owners ourselves we knew she would be able to relate to our situation and guide us.
Alyssa completely understood the risk we were taking and made us feel confident that she would do everything to minimize our risks along the way. After several long conversations with Alyssa we started the process. Alyssa did not keep us in the dark about anything. At all times Alyssa kept us posted about what was going on what could happen and what might not happen.
Anytime we were at risk she would make us well aware of the situation in order to help us make the right decision for ourselves. She always kept us posted when people were viewing our townhome @ PPR and updated us on the outcome of those viewing so we could learn what the potential buyers were thinking, looking for etc…Alyssa went above and beyond to get us though this enormous challenge.
Alyssa was literally there for us 24/7, at one point during the process she was out of the country and that did not change any of our communications at all. Alyssa was able to get us through every hurtle and we were able to accomplish our goal. We could of never done it without her and we are so thankful that she was there for us. This process could of fell apart for us at any time along the way but with Alyssa looking out for us at all times during the process she was able to get us through.
We are now so happy with our new home in The County Club @ Champions Gate.
Christa & Michael Granit
The Country Club at Championsgate
---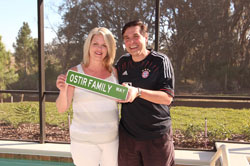 Our family had been going to Florida for over 10 years when we finally decided it was time to purchase a vacation home. Although we knew the Florida market quite well we thought we should speak with a professional Realtor.
After speaking with a number of Realtors we eventually found the right one – Jerry Barker immediately stood out from the rest. Jerry listens to people. Jerry has a tremendous amount of knowledge and readily shares this with you. Understanding your purchase criteria and applying his knowledge of the market, he is able to assist you in coming up with a solid purchase strategy.
Working with Jerry Barker allowed us to approach our purchase on a much more strategic basis. Jerry listened to our criteria and then suggested a strategy which worked for us. It is rare these days to have an experience with a product or service that exceeds your expectations – in Jerry's case we can sincerely say that he is exceeded our expectations. Jerry Barker is personable, knowledgeable and highly professional.
In addition, Jerry has a fantastic support network of other skilled professionals (lawyers, accountants, inspectors etc.) who also helped to make the purchase process very easy for us and there was not a point in the transaction where we were uncomfortable. Jerry Barker's reputation as an Orlando vacation home specialist speaks for itself, and we would highly recommend Jerry Barker to anyone contemplating an Orlando vacation home purchase.
Gary and Anita Ostir
Winnipeg and Solterra
---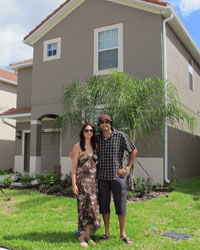 We would like to take this opportunity to express our deep satisfaction and appreciation for the manner in which Jerry Barker handled our search for a vacation home in the short time we spent with him.
Through his casual and friendly approach combined with clear frankness, sincerity and honesty that do not undermine a shrewd sales approach, Jerry showed us multiple resorts that suited our model of our investment and vacation home. It has been over a year and we are very happy with our purchase at the Paradise Palms Resort that we have now just purchased another property thru Jerry at Championsgate Florida.
Thank you Jerry for you Professionalism.
We will always contact you for all of our real estate needs in the Central Florida Area. Best regards.
Gurm & Sandy Sehmbi Ontario,
Paradise Palms and Championsgate
---
In common with many people who have taken holidays in Florida we found ourselves sitting poolside and thinking casually about the prospect of buying a holiday home in the sun. But those initial casual thoughts are a long long way from the reality and cold light of day when starting the search in earnest for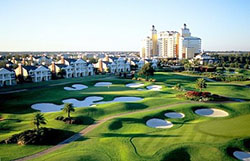 your first home abroad. It is a daunting prospect and it means committing real money to a real home in a far flung and distant place …. It's hard enough successfully negotiating all the buying pitfalls in this country, let alone doing it half way round the world. This is where Jerry Barker steps in – him and all his army!
Looking back it is hard to imagine what we would have done had we not fortuitously met Jerry, but from the first moment you do meet him you will instantly feel that this is a man you can work with. He tuned in to our needs very quickly and with minimum fuss. With Jerry it is all about the personal service – you want Jerry, you get Jerry. It's not just his name above the door.
His comprehensive and encyclopedic knowledge of the Orlando vacation home market was invaluable, he provided us with his undivided time and attention, taking us to multiple locations and homes, progressively refining the search and helping us to identify what it was that we actually wanted! (Which incidentally was not what we first thought we wanted!)
At no time did we feel pressurized, and at no time did we feel that Jerry was giving us the big sell. Once we had decided which of the many properties we had seen with Jerry we wanted to buy, he then kicked into another gear, steering us through the offer process, organizing surveys, liaising with management companies, arranging for bank accounts, providing advice on utilities to be switched to our name, recommending and introducing us to a property management company to represent us and our needs…. in short pretty much everything to complete a hassle free purchase. We ended up buying in Reunion, and in fact we were so impressed with Reunion that having brought ourselves a really great base to enjoy now, we are also looking with Jerry's assistance for a Lot on which to build our real dream home in the hopefully not too distant future!
The best bit of all is that as a buyer, Jerry's service is free!
We are now looking forward to spending time in our new home in Reunion, and when the time comes to sell this property and build our new home, there will be one man we will be speaking to – Jerry Barker!
Chris and Irene,
England and Reunion
---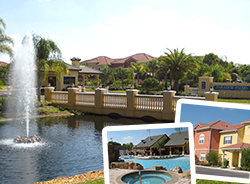 When we first started to look into buying a vacation home in Florida it seemed like a lot of paperwork and procedures. We live in Canada and both of us are employed in management roles that take up a lot of our time so we were not making progress with our search for a vacation home. Then a friend of ours introduced us to Jerry Barker.
Jerry took the time to understand what we were looking for in a vacation home. He connected us with his team of professionals and they walked us through the entire process. It was extremely smooth and stress free.
We are very happy with our vacation home in Paradise Palms, and are very grateful to have met Jerry Barker.
Ranjit and Palwinder Gill
Canada and Paradise Palms
---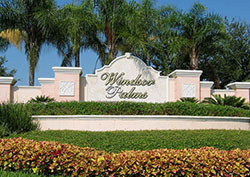 My wife and I have visited the Kissimmee area many times. After our last visit in Feb. 2012 in which we rented a home for 5 weeks in Windsor Hills, we decided it was time to purchase a home of our own.
We began our search by looking at properties on the internet. We saw some houses that peaked our interest and saw the Jerry Barker Group and made an inquiry. Almost immediately we heard from Alyssa Barker. She asked us a few questions regarding the type of home and price range etc. She began looking for us right away and we were receiving through email pictures of homes that we might be interested in within our price range. We traveled to Florida in May of 2013 and met with Alyssa.
We were familiar with the Kissimmee area as we are big Disney fans and visited often with our children (now grown) and still do with our grand kids. Alyssa had put together a portfolio of homes for us to see and we began the adventure of house hunting. Alyssa assured us that we didn't need to rush into buying right away that she was only interested that we find the right home for us.
One of the first homes we looked at was in Windsor Palms (the sister to Windsor Hills). We were really impressed with the home that she showed us but continued throughout the day looking at other homes. We just couldn't get the Windsor Palms home out of our minds and the next day asked Alyssa to take us back for a second look. Alyssa was so patient with us—never rushed us or tried to sway us one way or the other on any of the properties. We decided to move ahead in purchasing this home and Alyssa gave us so much advice on bidding and the procedure to secure the property. We live in the Chicago area and Alyssa kept us informed constantly on the status of the proceedings with our home. She contacted a home inspector for us and got back to us as to his findings.
We closed in July but our relationship with Alyssa did not end. She was so helpful in getting us in touch with contractors who did the work to renovate our home. We visited our newly renovated home in Sept and we met with Alyssa for lunch. We so appreciate Alyssa for really caring about her clients in finding the right home for them.
We not only found a great realtor who has our best interests at heart but also a great friend. I can't count how many times we email her with questions even now and she always responds back promptly and with concern. We would highly recommend the Jerry Barker Group. They are really concerned about finding the right home for you.
Chuck and Susan Wicks
Chicago and Windsor Palms
---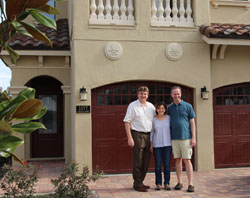 Jerry provided outstanding service and counsel when we purchased our vacation / investment home in Orlando.
He is patient, professional, an exemplary Realtor and a great advocate for his clients.
Bill & Michelle
England and Reunion
---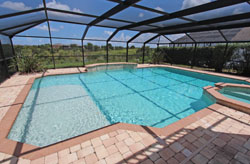 I was keen to buy a holiday home in Florida to take advantage of the favorable market conditions. As a UK resident I had never bought a property overseas.
I did a fair amount of research of various agents and for me Jerry's group was my standout preference. I took great comfort from the fact that many of Jerry's clients are UK residents in a similar position to me. Furthermore, I wouldn't engage anyone with seeing solid testimonials first, which Jerry's group had in abundance. Once I instructed Jerry and his team I wasn't disappointed. They were attentive and provided all the information I needed, including post completion support such as helping me organize the refurbishment of the property through their various contacts. The whole process was trouble free and I'm delighted with the purchase. I hope to buy additional properties in Florida in time to come and will definitely look to Jerry and his team to help me again. Highly recommended.
James,
England and West Haven
---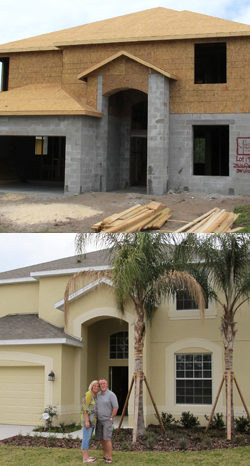 Like a lot of people we started our search for a home in Florida by trawling the internet.
On a cold, wet Friday in March 2012 we e-mailed a number of companies requesting information. The next afternoon, as we were at home watching 6 Nations rugby on TV, the phone rang and it was Jerry. Almost instantly he understood the type of property we were interested in and said he would conduct a search and e-mail the results. True to his word on Sunday morning the information was there.
It is that level of responsiveness that sets Jerry Barker head and shoulders above other Realtors (that, and the fact that he is quite tall!) We corresponded for a couple of months and when we met in June, Jerry not only showed us some excellent properties, but also helped with introductions to banks, accountants, currency brokers, interior designers and even provided accurate pro-formas on running costs etc so that we had a complete picture of what was involved.. We decided on a new build in Watersong and Jerry acted as our eyes and ears during the six month process sending us video updates whenever requested.
Our children were so excited to get each installment with Jerry's "unique" voice over commentary. His attention to detail is remarkable and he worked tirelessly to make sure we were 100% happy with the results. Trust is a vital factor and, with Jerry, we felt very comfortable letting him guide and advise us through to the conclusion of the project. It is with complete confidence that we would recommend Jerry and his team (we must mention the indefatigable Roger Hutchins at this point) to any prospective purchaser.
To anyone who feels, as we did back in March, that they may be missing out in some way by not consulting other Realtors our advice is " Don't worry about the rest…Jerry Barkers the best!"
Peter & Geraldine Caldwell
Northern Ireland & Watersong
---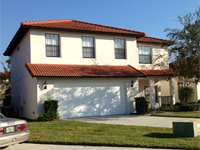 A distant country, a foreign language, a mortgage, completely different procedures and documents, the fear of a "leap in the dark" and a thousand daily tasks to combine…There were just all the ingredients to define it a mission impossible!
But, luckily, we found Jerry and Alyssa Barker. The first impression from the website: well done, clear and with lots of useful information. And most of all, once activated the first contact, a perfect mix of professionalism and sensitivity.
We never felt alone or left a prey to doubts and the ups and downs of this almost five months long process. A quick and clear answer for each of our many questions, a solution for every problem. And an efficient network of partners and contacts for each of the many aspects of the sale and ownership of a house in Florida.
Jerry and Alyssa also perfectly organized the few days we could go to Orlando to define the purchase and the mortgage. And once we met them, we had the final confirmation: they are not only top professionals, but also great people.
Francesca and Andrea, Fabrizio and Simona Rome,
Italy and High Grove
La serietà, la passione, la dedizione e la preparazione di questo gruppo di splendide persone ci hanno consentito di perseguire il nostro sogno tramite un percorso che sembrava molto difficile da raggiungere. Siamo stati letteralmente "coccolati" e assistiti in modo assolutamente impeccabile. E' cosa rara trovare professionisti di questo genere. A loro un ringraziamento infinito.
Fabrizio Mancia Rome and High Grove
---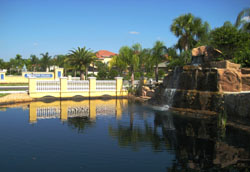 When my husband and I started our search for a vacation home in Kissimmee, Florida, we were looking for a resource that provided a comparison of the top 5 resorts that offered vacation homes for sale. During our search, we came across Jerry Barker's website. The website pretty much summed it up. Not only did Jerry's website list most of the resorts, it was well designed, easy to navigate and most importantly it had videos of the resorts and chock full of information well targeted to our search criteria. As a web developer, this was very important me. This proved that he took his business seriously which made me feel very confident that he was the real estate agent quite capable of making our dream possible without the stress component.
Not only was Jerry's website professional, so was his communication. Jerry never missed a beat. He made himself available to us 100% and he was extremely prompt, night or day!. We were totally impressed. He shared very valuable information that would assist us in making this very important decision. After a series of email discussions, Jerry was able to quickly extract exactly what we wanted, which made our decision easier. In a couple of weeks we finally met and we were not disappointed. Jerry is very professional, knowledgeable, honest, personable and has a great sense of humor. Although we were 90% sure where we wanted our vacation home, he still showed us several properties in different resorts and gated communities. This ultimately solidified our decision.
When we returned to Canada, we continued our communication virtually. Jerry posted a professional video tour of vacation home. We then made the leap and purchased a property as recommended at the beautiful resort Paradise Palms. During the transaction from making the offer to the closing, Jerry made the entire process very smooth and through it all he was very positive. To add icing on the cake, Jerry graciously gave us a recommendation that saved us thousands of dollars in this transaction, a piece of information that we are eternally grateful for. After the purchase, Jerry introduced us to all the players in the vacation home business and I must say they all are very professional.
Jerry went over and beyond in taking care of us. He is a true top notch vacation specialist and real estate agent. Hands down! I would recommend Jerry to anyone who is interested in purchasing a home in Florida whether it is for personal or investment use. Jerry has earned 5 stars in our book and we have earned a great Florida real estate agent!
Thanks Jerry!
Egon & Lisa
Ontario Canada, Paradise Palms and Championsgate
Our search for a vacation home started by throwing a broad net over the state of Florida. After a year of research we started focusing on Central Florida and by luck, landed on The Jerry Barker Group website. We used his site for quite a few days before picking up the phone to meet the man that was about to become our mentor. Jerry generously gave us his time to talk through our questions, concerns and goals, which eventually led to our first visit to the area.
Traveling from a distance, Jerry was sensitive to the fact that our time was limited and worked with us ahead of time to ensure we maximized that first visit. He helped us narrow down our search by throwing out targeted questions and strategically responding to the answers we provided him. By the time we arrived in Orlando, Jerry had a very good understanding of what we were looking for and graciously spent the day giving us a comprehensive tour of the area.
When we were ready to submit an offer, we saw the other side of his skill set. The former owner of our property resided in a foreign country, which presented a few bumps that we had never experienced before. Throughout the process, Jerry kept us informed of any red flags that caught his attention and the potential impact to our closing. It was a nail-biting experience for us and one we would have walked away from if we did not have a "friend" helping us along the way.
This testimonial has a very happy ending and we now own that vacation home in Florida. Jerry continues to reach out from time to time to check on us and continues to help us out with questions or resource referrals. If you are reading this to decide if The Jerry Barker Group is a fit for you, I encourage you to give him a call and talk through your goals like we did. You won't be disappointed and I guarantee you will enjoy that first conversation (he is a lot of fun too!).
Darlene and Doug
Championsgate & Fallon, Missouri
https://theconnectedhost.com/
---
Where do I start…?
In a galaxy far, far away…. Wait, wrong story.
My wife and I have been coming to Orlando since my daughter was 5. She is now 20. My wife and I talked on several occasions about buying here but just never followed through. I happened across Jerry's information on the internet as well as other brokers and started calling a few months ago. He was very forthcoming and not pushy about purchasing. Jerry was the calming effect for us. We were in "let's Go" mode and he convinced us to wait a bit, don't get into a rush. How refreshing was this..!! A salesman that is not high pressure….!!
We own long term rentals but have zero experience with short term rentals. Jerry guided us through this whole process including the business side (which by the way is the harder part to get through). Jerry would take our calls at almost any time and answer any questions we had. He also did not sugar coat anything, he told it like it was…. Warts and all…?!!
Don't you just love his accent…!!
Jerry, you are a great person and mentor. You have made our dream a reality.
Thank You…Thank You so much!
Aviana Home Away Villa
Greg & Delores
Aviana & Perry, GA
---
My husband and I decided that we wanted to purchase a vacation home in the Orlando area and a friend referred us to a local realtor. Since we were purchasing the property remotely as we live in another State, we needed a realtor who was efficient and knowledgeable. After a few weeks we realized that the first realtor was not meeting our expectations in terms of familiarity with vacation rentals. I did an online search for "Orlando vacation home specialist" and came across The Jerry Barker Group. After a quick review of their website, I immediately knew that I found the perfect realtor to assist us with our purchase. Their website is so detailed and comprehensive that many of my questions were answered before I even contacted them.
My first contact was with Ali Frazier through the chat feature on their website. She was amazing, literally from the very first contact all the way through closing! She immediately connected us with Jerry Barker who is essentially an encyclopedia of vacation rentals in the Orlando area. We narrowed down our search to a few properties and new listings were immediately sent to us as they came on the market. With the high demand and lack of inventory, we knew that the market was very competitive but we were confident that we would find the right house with Jerry guiding us – which we did! We were able to close about 25 days after signing the contract.
I highly recommend Jerry Barker and his team. Their expertise in the Orlando vacation home market will ensure that you are in great hands! We love our new home!
Thank you Jerry & Ali!
Melaine and Keiron
Solterra and New York
---
Jerry & Ali provided us an easy, enjoyable, and buying experience for our instant income-generating property in Encore. My wife and I really wanted to take make an investment in the Orlando area while interest rates were low. We started our search via Zillow and Realtor and quickly became overwhelmed with so many properties and no clear idea to the neighborhoods and their reputations. Jerry was amazing to interview, we learned he has very strong knowledge to the area and specifically understood the investment aspect. Through various zoom meetings, phone calls, and emails he was able to target our needs and guide us to the right neighborhoods as well as help us pinpoint the most profit-making home in the area within our price range. Once we made an offer, Ali thoroughly took over and made sure that EVERY logistical need was complete from: insurance, financing, management company, utilities and Florida state requirements. This was the easiest purchase we have ever made, and done with confidence while being remote. Now we are enjoying a property which is paying for our upcoming vacations. They make up a great team and I strongly recommend them to folks needing local experience of the area and looking for a short-term market home.
Ronnie & Cassandra
Encore Club and Bath, North Carolina
---
They say knowledge is power!
We didn't have knowledge of the real estate market in Orlando when we were purchasing. It was especially difficult when we were purchasing from out of state. After our first phone call with Ali and Jerry I knew that we were in safe hands. They had the knowledge!
The Jerry Barker Group made us feel like their only client. Their attention to detail and availability was so reassuring. No question was too small. We purchased a new property at Windsor Island and were very excited when Jerry sent the professional video updates. Jerry and Ali have a great attitude, are personable and honest, and are invested in helping others.
They have a great network of connections such as home inspectors and interior designers.
We were lucky enough to spend some time at our vacation home over the summer where Jerry and Rodger ( another member of the Jerry Barker team) came to visit. I highly recommend and trust the Jerry Barker Group.
Linda And Keith
Windsor Island & Wellesley, MA
---
From start to finish Jerry and his team were fantastic. Their knowledge of this market is incredible and their process made things very smooth for a first time vacation home buyer. Absolutely recommend.
Brian and Kristen
Encore Club & Potomac, MD
---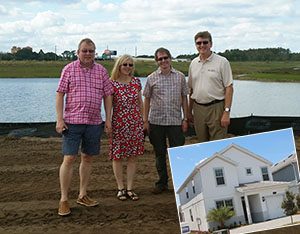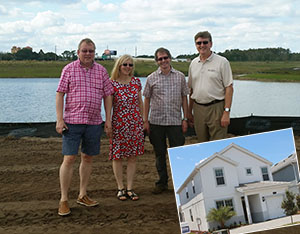 We are the very proud and extremely happy owners of a beautiful new family home at Storey Lake.
The house is just fabulous; the location is perfect – so close to all the main attractions yet in a tranquil setting overlooking the lake, and the site and the amenities are second to none.
The key to making this dream come true has definitely been Jerry!
After meeting Jerry and many other Realtors, at the 'Place in the Sun' exhibition in Manchester we started to research the vacation home market in Orlando and made plans to visit in September 2015.
Upon meeting with Jerry during our visit it soon became crystal clear that Jerry was the 'man' for us. His laid back professionalism and openness, mixed with his clear understanding of the market and the sales process, together with his ability to listen, have made our home purchase an easy, efficient and exciting experience.
Jerry went the extra mile to show us a wide selection of resales and new homes, all of which fitted our criteria on paper. A day spent with Jerry was all that was required to give him the insight he needed to find us the perfect home.
Well actually, it turned out to be just a building plot on the edge of a lake!
We had not really considered a new build before as we thought it would be difficult to co-ordinate the transformation into a family holiday home and vacation rental from overseas.
We can say whole heartedly that, with the help and advice from Jerry, his recommendations regarding management, tax, furniture and interior design and his updates and photographs during the building of our home, the entire project was a breeze and ran seamlessly from inception to receiving the keys.
Even now, after we have closed, Jerry is there to offer help. We would definitely recommend Jerry to anyone thinking of buying a home in Florida. His straightforward, comprehensive and honest approach with absolutely no pressure was greatly appreciated by us.  We have a stunning home in a fantastic location – cheers Jerry!
Many Thanks
Julie and Chris
Storey Lake and Whitby, North Yorkshire.
---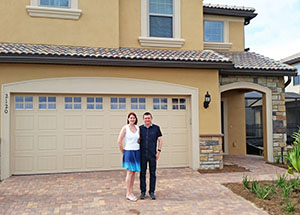 It's always a bit nerve wracking taking up a new venture with no experience or even someone to talk to who has been through the experience you are about to embark on, to ease you along and give you hints and tips, so when we decided to buy a holiday home in Orlando our first port of call was A Place in the Sun Roadshow down London.
We met Jerry and Alyssa at the show, along with other Realtor's, but Jerry and Alyssa made the most impression and we liked them. They were easy to chat to, spoke frankly about what it takes to buy and run a holiday home and weren't smarmy or pushy.
Very shortly after we called Jerry, had a chat about what we were looking for and visited Orlando. Jerry met us, showed us various communities and houses for sale so we could get a feel for what was available and what we could realistically afford, whilst he sussed out what we were after, but he had already figured that out from talking to us!
Within two days we had made our minds up and sealed the deal. This was all made possible by Jerry who has been an absolute rock star throughout the whole process. We could not have picked a better Realtor to make our holiday home purchase. He was professional, honest, showed us a wide spectrum of what was available for us to buy and then let us make our own minds up. He did not rush or pressurize us and told us all the pros and cons of what we were looking at so we had a full picture of the situation to make the best decision.
You can ask him anything and be candid about what you think about the properties he shows you (he is also quite funny!).
We would recommend Jerry in a heartbeat and he will continue to be our Realtor. He has a great team, backed up with all the other professional people you will need on your own team to make a holiday home successful.
Megan and Mark Taylor
The UK and Windsor at Westside
---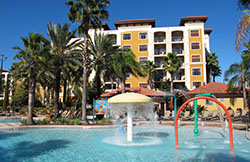 As Scandinavians usually do, we crave for sun and warmth and our life saver has been extended winter vacations in Florida for many years. Our children love Orlando and as we find the city entertaining for all ages Orlando has become our favorite!
After a few vacations we started to think about investing in a vacation home. The investment felt safe in such an attractive area for tourists but we felt anxious about the process of the legal documentation and the bank business etc not having any prior experience with the US real estate business and having English as a second language. But we felt very well taken care of by an experienced realtor at the Jerry Barker Group. They are used to foreign clients and can explain, answer all questions and refer to good connections.
We had a great experience with our realtor and felt very safe throughout our process! He helped us find the vacation home we looked for and we are now happy owners and hopefully even more frequent visitors in the wonderful Florida sun!
Thank you Jerry and Roger for making this happen for us!
Anna-Karin Belfrage
Sweden and Floridays
---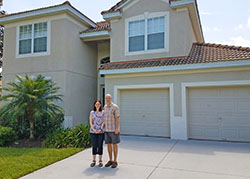 We had been visiting Windsor Hills for the past 6 years and had always dreamed of buying a home. We started to look at listings and came across Jerry's website. After contacting him he sent us his book which was a wealth of information. At the same time a listing that fulfilled our wish list came on the market. Jerry was right there with us the whole time- from making the offer to close. As Canadians many of the process were new to us and Jerry always took the extra time to explain. As well he put us in touch with a team that has made this journey a lot easier. I would not hesitate to recommend Jerry and his team to anyone looking to buy an Orlando vacation home.
Marcel and Michelle Drouillard
Canada and Windsor Hills
---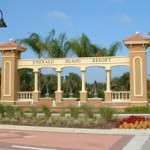 We recently purchased a 3 bedroom townhouse through the Jerry Barker group. We contacted Jerry after seeing a number of properties on his excellent website which provided a mine of useful information.
Jerry helped us narrow down exactly what wanted and provided us his professional opinion on the resorts that would best meet our requirements. Once we had found a property we found his honesty and candor very useful and refreshing. He was truly giving us an unbiased opinion rather than the usual salesman's talk. Jerry arranged for a video tour of the property within a day or two and we were able to look at the property in detail without needing to fly over to Florida.
Both Jerry and Alyssa were extremely patient in answering the numerous questions we had and, despite the time difference. were very prompt in responding to us. He made the buying process extremely easy and stress free. A bonus of dealing with Jerry is his network of approved vendors. This is an added value that cannot be underestimated. Before we had even closed we had appointed a management company, arranged for decorations and furnishing, opened a local bank account, bought insurance and located a tax attorney.
Everyone Jerry recommended to us was brilliant to deal with and understood our needs.Fantastic service, do not look elsewhere. We have bought many houses over the years across 4 countries and have never been as impressed, not even close.
Thanks Jerry and team, it was our pleasure and we'll be contacting you next time around.
David and Jessica Jordan
Dubai and Emerald Island and Solana

---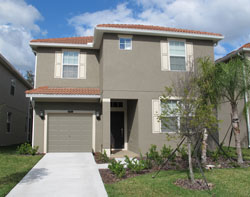 When my husband and I began considering a property near Disney, the first real estate agent I called could not answer any questions I had immediately. She said she would get back to us with the information.
Being from New York and not having a great deal of patience I came across Jerry Barker's website. I called and he immediately picked up the phone and had answers to all my questions plus additional information I didn't even think to ask.
Our decision was made, Jerry was our agent.
By the way the first agent called back a week later at which time, we told her we no longer required her services. In that time, Jerry had already provided us through emails and phone calls with prices and availability of townhouses and villas at Paradise Palms Resort. He also advised us as to what incentives we could negotiate with the builder based on his experience. All the information he provided us was extremely accurate and helpful.
When we met Jerry in person our expectations were further exceeded. He spent the entire day showing us properties and spent the evening helping us to negotiate and close the deal with the builder for our villa at Paradise Palms Resort. After an extremely long day we had the privilege of dining with Jerry and his wonderful family.
The entire process of buying our home was made simple thanks to Jerry. All the contacts he provided whether in regards to property management, insurance and even furniture companies proved to be knowledgeable and professional. What could have been a stressful process was actually exciting and fun, all thanks to Jerry. Even after closing Jerry helped set up furniture deliveries, contacted the management company and helped with all the final details we could not be present for. We feel he went above and beyond a real estate agent's responsibilities.
What started out as a search for a real estate agent has lead to a friendship. My husband and I look forward to spending time with Jerry and his family on our visits to Florida. In our opinion, if you are looking for a real estate agent in Central Florida you found the best in Jerry Barker.
John and Donna Punis
New York and Paradise Palms and Championsgate

---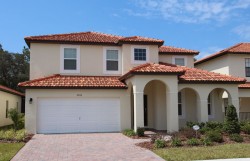 We would both like to thank Jerry for all his help and advice during our purchase. Jerry was so helpful driving us around looking at all the properties nothing was too much trouble. When we did not find anything whilst in Orlando Jerry kept on looking on our behalf and when we did find one he videoed for us to see which was really helpful.
Anita traveled back to Orlando and Jerry picked her up from the airport, arranged accommodation and set up people for her to meet. Jerry has gone above and beyond to make this experience as smooth as possible and we would recommend him whole-heartedly.
Thank you Ian & Anita Dolan
Liverpool and Tuscany
---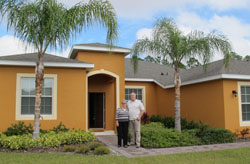 We first contacted Jerry via the internet early 2012 and had many discussions with him regarding the purchase of a property in Florida. We found Jerry's website very informative and easy to use. When we visited Orlando with our family in April we spent a day with Jerry viewing our shortlist. It took us a long time to decide what type of property we actually wanted and returned to Orlando four more times during 2012. During the time we were in the UK Jerry kept us up to date with the market and even videoed several properties for us.
He was very informative and answered any questions we had. Although we had a couple of disappointments along the way Jerry with great patience and humor continued to show us alternatives. Nothing was too much trouble for him.
We would like to thank Jerry very much as without him we would probably have given up. We eventually found our property. We returned to England and Jerry and his team coordinated every stage of the process keeping us up to date on a daily basis. The buying process went off without a hitch and I am pleased to say that we are now proud owners of our Florida holiday home We would recommend Jerry to anyone considering buying a home in Florida.
He was full of information, very professional and a totally nice guy.
Keith and Lilian Butcher
UK and Watersong
---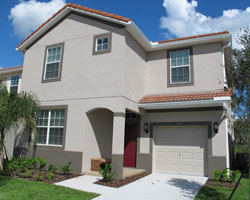 My family and I knew we wanted to purchase a holiday home in the Orlando / Kissimmee area, somewhere where we could visit a couple of times a year and in between take advantage of the short term rental market that exists in this area.
Having already done a lot of research ourselves we came across The Jerry Barker Group. Jerry's website looked professional, had good coverage and was very informative. So we decided to contact Jerry through his website and he got back to us immediately. What I liked about Jerry was that he listened to what we were exactly looking for and helped us narrow down options to choose from.
Mid March my father and I went flew out to meet Jerry and he was so kind to show us the options we had been talking about prior to our visit. He also introduced us to various other contacts related to the vacation home market such as property management company and tax specialist. This gave us the opportunity to ask questions directly and also meant that we had a contact should we of had any questions when we returned back to the UK.
The fact that we were thousands of miles away, we were looking for someone honest and trustworthy and Jerry is exactly that! We decided to go with a new built at Paradise Palms in Kissimmee and we love our new home.
Without Jerry this would have been impossible so thank you so much Jerry. I would definitely seek Jerry's help again and would highly recommend him.
Gira
London and Paradise Palms
---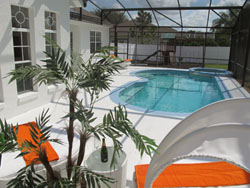 When we began our search for properties in Orlando we initially made contact with several realtors. Jerry asked us for our criteria and he then identified a number of potential properties for us to look at.
We met Jerry for the first time when we went to look at homes that met our criteria. We got on really well from the moment we met him, he is a very engaging person full of information and ideas that helped us secure our house in Orlando. He took time to get to know us and then made some additional suggestions that we might be interested in – he was excellent.
As we moved through the buying process he was always available to help and make recommendations, putting us in touch with various professionals to close the transaction. He also put us in touch with an interior design team when we decided to completely renovate the house, as well as management companies to look after it as we move in to marketing the rentals. He has continued to stay in touch with us making sure that everything is in order. I can't thank or praise him enough – I just don't know what we would we have done without him.
I am using Jerry again to help us find our next property and would highly recommend him.
Tony and Maureen
England and Formosa Gardens
---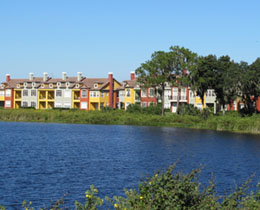 Our attempts to purchase a vacation home in the Orlando area were neither successful nor enjoyable until obtaining the services of Jerry Barker. Having previously attempted twice in the past two years to purchase a vacation home without success we were very wary and apprehensive about trying again as both previous efforts ended negatively and costly as a result of poor advice from our Realtors. Therefore, on this last attempt we thoroughly researched and questioned Jerry prior to accepting his services.
Jerry was so confident that we would be satisfied with his services that he even offered to take us out before signing on with him. In order to determine the expectations we held for our vacation home and save time during our short visit, Jerry was able to narrow down our search considerably by discussing our desires for the home and offering advice regarding short term rentals vs. second homes prior to our visit.
He was always available either by e-mail or phone and responded to our inquiries promptly. Once a decision was made Jerry and his team followed and guided us through the complete process ensuring total compliance and providing updates as needed. He provided us with information for Property Management, Home Inspection, Home Insurance and Furniture Designer and still offers his help to this day.
During our four month encounter Jerry has always been personable, professional, helpful, patient and knowledgeable with any questions or doubts we encountered. We would highly recommend Jerry to anyone looking for either a rental property or second home in the Orlando area.
Thank you so much Jerry. We love our new home!!!
Jim and Nicole
Canada and Providence
---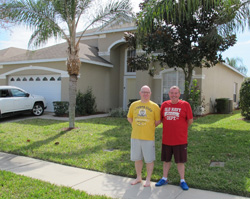 We first contacted Jerry in Aug 2011 with a view to purchasing an investment property in Orlando. Whilst were getting near to having the funds to buy, it was just a waiting game for us and during the time from first contact to closing on our house, Jerry and his team guided us thru the whole process. We were kept up to date with properties available on first contact and also as any come on to the market that Jerry may think we were interested in.
During the first few initial months Jerry introduced us to a bank manager who has been fantastic thru ought the process of buying and still are. He also introduced us to a currency broker to handle our £ to $ transfer who also gave a very very good market rate for our exchanges making our purchase just that little bit better value. Helping us secure tax consultants to ensure that all of the filing paperwork for state taxes and the IRS Erin, who coordinated all of our purchase documents and administrating the finances and really keeping us on track with the purchase. Finally a property management company that has got our home already listed and got bookings before photos are even published. Global PM really does look after us and our property.
Jerry Barker, his closing team, the people and companies he recommends has made the buying process so quick and easy that we are even considering another 1 or 2 more purchases with him.
Jerry, we couldn't have asked for a better person to help us with this process, this is so much easier than buying in the UK (or you made it seem that way) We would highly recommend Jerry Barker and his team for purchasing and would welcome anyone interested in using Jerry's services to contact us direct to back up our testimonial.
You will be our first port of call for the next purchase. Thank you for securing us such a lovely house.
Kirby and Paul
England and Windsor Palms
---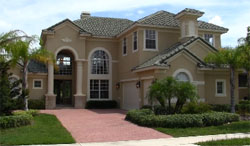 We did not know where to start with buying a house in Florida, and were not even sure whether we wanted to, but with your careful and unpressured approach we gradually became both comfortable with the idea and educated on where we wanted to look. From day one we regarded you first and foremost as a true friend, and at no time did we feel any pressure from yourself in our search.
As you know our first choice evaporated as we were not looking to pay the full asking price for the preferred property, but none of us gave up and with your careful guidance we have ended up with a much more desirable property than we originally chose and at a much better price. Now we are settling into the ownership role you have continued to support us in unbiased advice and kind recommendations whether we have bothered you day or night, and you have tirelessly encouraged us. Thank you from us all Jerry – we now look forward to developing our friendship from our new house !!
The start of the journey was daunting in our ignorance – but you took us there by a most enjoyable route – you are a real professional !
Our Best Wishes to you and the family,
James, Julie, Daisy and Tilly Shepherd
England and Providence
---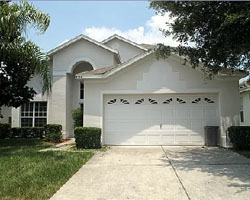 When we decided to look for a vacation home in Orlando the best decision we made was to work with Jerry and have him represent us. We told him what we were looking for and he zeroed in on just the right homes to view. He anticipated just about every question we could have possibly had and had all the right answers. He made introductions to a great property mgmt company, title company, home inspector, insurance broker, interior design company and tax accountant.
He also represented us very well during our negotiations and ensured that everything went smoothly during our closing. We couldn't have asked for anything more and we love our new home! I would highly recommend Jerry to anyone looking for a vacation property in Orlando.
His knowledge of the market is second to none and he ensured that our experience was a positive one from start to finish.
Jeff & Donna Keeler
Nova Scotia and Windsor Palms
---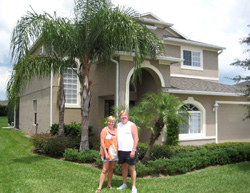 My wife and I made contact with Jerry while we were still in the UK. In the run up to our trip to Florida he would send us details of available properties. This allowed us to compile a short list of interesting properties.
When we arrived in Florida and met Jerry we visited the ones we had shortlisted, and a few more he suggested, and came to a decision very quickly.
Jerry was most knowledgeable VERY attentive and always available to answer any questions we had. I would highly recommend Jerry Barker to everyone.
Thanks again Jerry!
Karen and Robin,
Scotland and "The Shire"
---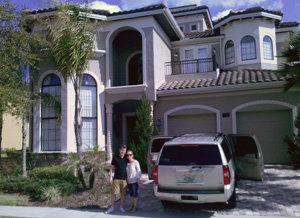 Hi Jerry, Just thought that I would drop you an e-mail now that we are back in the UK following our first visit to our new vacation home, it was everything we expected and more. We would like to take this opportunity to thank you for all your help with the processes involved in buying our house in Reunion, from the first time we spoke way back in October through the purchase and even beyond that, your after-sales help with insurances, surveys, repairs and local tax issues was invaluable.
As you know buying a property even when you live in the country can be tough and buying our property could have been a huge struggle without you constantly assisting the process from Orlando,without your help I think our lives would have been made so much more difficult, but now,thanks to you, we have our dream home in beautiful Reunion and can begin to enjoy it. In future if anybody asks me to recommend an agent in Florida your name will be in their In box in a shot, just wish that you could buy my houses for me in the UK!
Thanks again for all of your help,
Andrew and Amanda,
England and Reunion, Highlands Reserve, Tuscan Hills, Regal Oaks, Towns of Legacy and Championsgate.
We contacted Jerry after seeing his advert in Place in the Sun magazine in February. We told him our specifications and he provided us with many properties that matched our criteria. When we found the property we felt was right for us he put together a virtual tour for us which we found invaluable as we reside in the UK. Throughout the whole buying process Jerry was on hand to guide us and spent a whole day with us when we visited the US to check out the property for ourselves and chauffeured us around to various people we needed to meet. He put us in touch with people who could assist us in different areas from Tax matters to property management. Nothing was ever too much trouble, even my endless emails!!. Everyone we dealt with throughout the purchase were friendly, professional and efficient. We really can't thank Jerry and his team enough for helping us realize our dream of purchasing a house in Florida. If you decide to use Jerry's services we really don't think you'll be disappointed, we weren't.
The Cottendens
England and Emerald Island
---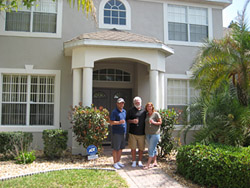 When my Sister and I first decided to look at purchasing a vacation/rental property in the Orlando area, we quickly became overwhelmed with the number of properties and market price variations we were seeing on the internet. While browsing one night, we came across one of Jerry Barker's information videos on an area that we were interested in getting more details about so sent an initial email which Jerry immediately responded to with the answers to our questions, along with additional information we hadn't even thought to ask.
We were very impressed with Jerry's knowledge and expertise of the market which resulted in us utilizing Jerry as our primary contact to facilitate our real estate purchase. As we narrowed down our selection criteria we decided to visit Orlando in person (from our home in Canada), Jerry was instrumental in this process by researching the properties he thought would interest us in the desired areas, arranging various property viewings and taking us on a guided tour which helped us confirm the vacation community meeting all of our needs, we landed on Highlands Reserve in Davenport. Once we had decided on Highlands Reserve and returned back to Canada, Jerry was instrumental in getting us the property of our dreams.
He went to several properties in the community and videotaped the ones we expressed interest in, which led us to eventually putting in an offer on a property based solely on the video & Jerry's insight into our needs and expectations. When we visited the property in person to close the deal, we were extremely pleased as the video was a complete representation of the property and there were no "hidden" surprises when we arrived allowing us to sign the purchase agreements immediately. The services Jerry offered did not stop with the purchase agreement, equally valuable were the closing services to assist with finalizing the purchase. A lot of agents will leave you on your own to navigate through this unfamiliar territory, but we felt very secure and in very capable hands with Jerry and his team who were able to walk us through the process without any issues/problems.
The services Jerry provides extended even further; my Sister & I immediately wanted to have some painting and decorating done to our new vacation/rental property to make it our own, Jerry put us in touch with some excellent professionals, including a decorator, painter and tradesman who all maintained the highest of service levels we came to expect from Jerry.
Now that our purchase is complete and renovations finished, we must say we are very (very) happy with our new Florida home, thanks to Jerry this complicated process was expertly managed with ease. We have since recommended Jerry to our friends and family and wish to thank him for making our dreams become a reality.
Susan Winter & Cindy Harrison
Ontario Canada & Highlands Reserve
---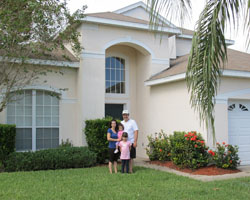 We started looking for a vacation home over two years ago and had difficulty in finding someone who would dedicate the appropriate amount of time to educate us on the process.
Searching on the web one day we came across Jerry Barker. Jerry was instrumental in getting the awareness required enabling us to take our dream to the next level. While the prospect of buying a vacation home in Florida was really exciting, the fact that we live in Canada made it a bit scary.
We visited Orlando for a day and Jerry took us to see a number of properties. Additionally, he took the time to introduce us to a tax expert and a property management company. These visits allowed us to ask as many questions as we wanted to become more comfortable with the process.
From start to finish, Jerry was there for us. This is not the type of sales person that makes the sale and disappears, instead he is a great partner throughout the process. I recommend Jerry to anyone looking to make an investment in Orlando.
Carlos. Ontario,
Canada & Windsor Palms
---
We first came across Jerry in a magazine article and decided to contact him, along with two or three other realtors.
Jerry was the only realtor who replied and in all our dealings with him we have found him to be courteous and very helpful. Nothing seemed to be too much trouble. He very quickly worked out the type of property that would interest us and consistently provided us with details of properties that were appropriate.
When we finally decided that we had found the right house, we flew over to Davenport for a weekend. Jerry introduced us to a tax adviser, helped us open a bank account, and showed us a a number of good alternatives to the property that we were interested in. Throughout the purchase process he has remained interested and involved and has recommended suitable people to help us along the way.
Based on our experience, we would have no hesitation in recommending Jerry to other overseas buyers.
Nick and Jane,
Jersey, UK and Watersong and Solana

---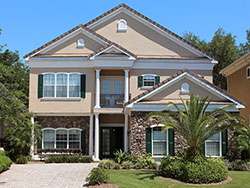 Alyssa Barker took us through the intricacy of buying a property in Florida from overseas. Always patient, positive and reliable. In the end we succeeded buying a property within 3 weeks. We even found on arrival at Christmas she had taken the trouble to provide a Christmas tree decorated by her and presents for our girls.
Thank you Alyssa!!!
Stella & James Baldwin
England and Reunion