About Us – The Jerry Barker Group
We formed the Jerry Barker Group in 2009 to specialize in vacation home investment properties in the Orlando / Disney vacation rental market by putting together a team of partners and associates that we could rely on provide the very best service to our clients.
Our primary area of expertise is offering our knowledge in vacation home properties to buyers looking to purchase a new or resale vacation home investment property in the Orlando and Kissimmee / Davenport residential and vacation home property markets. We also provide support for owners who are looking to sell property in the Orlando / Disney vacation resort area.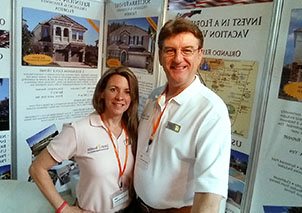 Jerry and Alyssa Barker at the "A Place in the Sun Show" London 2015
Through our network of Realtors and service providers we are able to deliver the knowledge and experience to assist in locating the ideal options for purchase, negotiate and secure a property and provide the assistance to set up and manage a successful short term management program or to provide caretaker services for your investment.
We don't want to sell you a property, we want to help you buy one!

About Jerry Barker
12 Great Reasons You Should Work With Us!
The Jerry Barker Group has been assisting out-of-state and international buyers for over a decade.
Honesty and integrity are our first priorities.
We have helped delighted owners from 36 different countries and states purchase over $100 million in vacation homes.
Jerry Barker authored "The Orlando Vacation Home Buyers Guide" in 2015 and it has become the go to read for buyers, sellers and industry insiders looking for detailed information on buying, ownership and management.
We pioneered the Orlando Rental Homes By Owner (ORHBO.com) website, a free service to assist vacation home owners with commission free rentals.
We pride ourselves in ensuring our clients are educated first so they can have a successful investment, understand everything that is involved before making a purchase, our many hundreds of clients will testify to the excellent services we provide.
We show the estimated costs and returns up front via our Interactive calculator. No hidden costs or fees.
We have no affiliation directly with management or marketing services – nor do we take referral fees. Our recommendations are based on our client's needs only.
Everything you will need is in one place. We assist with every aspect of buying, ownership and management through our best in class associate relationships built over a decade of successful transactions.
You will always have a friend in Florida. We will be with you before, during and after your purchase. We can be personally reached every day.
We have no fees for buyers. We save you money and will help you make more money over the life of your ownership.
We are experts on Orlando Vacation Homes, that's all we do!
You will not know how important excellent representation is until it is too late.
Only work with the best.