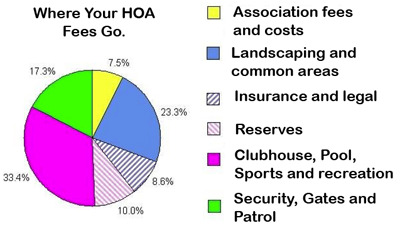 The HOA fees are a necessary mandatory expense. HOA fees (or home owners association ) are set by the HOA board who are selected by people who own in the community and are calculated to cover running costs. Generally the better the facilities the higher the fees.
Manned gated security, nice landscaping, community pool, clubhouse and facilities all cost money each year to run and is shared by the owners equally. The Home Owners Association oversee this.
In some resorts this may be handled by a management company if none of the owners choose to be part of the board. As an owner you can have active participate in the association.
Most owners pay the fees and that is their only involvement.
When you rent your property out, people want to stay at places that are secure and have lots of nice facilities and are willing to pay for that – so in effect you may pay more per year but your returns are proportionately greater so the HOA can have a very positive effect within your community and your rental returns.
We'd be delighted to give you comprehensive and detailed answers to all of your questions regarding HOA fees.