Terra Verde is situated about 20 minutes south east of the Disney parks in a very popular area for short term investment properties.
The "Terra Verde Rock" is one of those instantly recognizable land marks that welcome you as you arrive at the gatehouse. The manned gates add the security factor that distinguishes the upper tier of resort properties and immediately gives guests an immediate level of comfort.
Terra Verde has both Villas and Townhouses on property which adds to the security of the HOA. Many of the townhouses have individual splash pools or hot tubs which add to the rent-ability of the unites.
The clubhouse is immediate as you pass through the main entry and it has many of the best amenities you would come to expect from a quality resort.
The walk in swimming pool is ample but not huge and offers the additional bonus of offering a pool bar for those that enjoy a frost libation while trying to cool off from a day in the sun.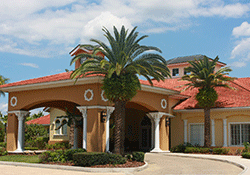 The clubhouse is well equipped with fitness center, games room and video arcade, spa and sauna and the obligatory business center for those that just can't stand to be without internet access. Outside you can find a nice children's playground and a basketball half court and beach volleyball court.
There is an on-site property management company which does oversee a good percentage of the properties but using it is not mandatory so you are free to select a management company of your choice.
The HOA fees are in par with it's contemporaries and it's nice to hear that the resort does allow pets. Fees are paid in two part, a standard master fee and an associated fee depending on whether your property is a townhouse or a villa.
Terra Verde is certainly one of the better resorts in the Orlando are and should be considered as one of your choices for both Single family homes and the  value townhouses.
Terra Verde Houses for Sale