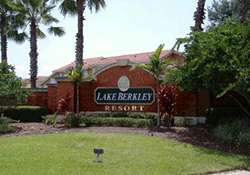 This quiet little gem is hidden away in the south east STR quadrant and has that sleepy relaxing ambiance that makes it a little different from many of the other resorts. Gated Manned 24hr security, well kept and manicured landscaping, the lakes and bird sanctuary plus fantastic walk trail and play area make Lake Berkley a very popular stop for owners and guests alike.
Lake Berkley does not have the big fancy clubhouse and facilities like it's contemporaries but more than makes up for it with its nature trail and lake. The clubhouse and community pool are perfectly adequate but of little value to the vacationers who rent the Villas with full sized pools on lot. Lake Berkley does have a small section of town homes which do require the community pool and for them the facilities are ideal. It really is a very nice balance.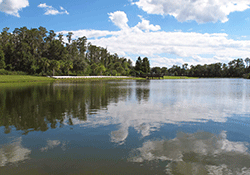 It's location and proximity to both Disney and shops and entertainment of 192 are an added bonus to an all around pleasant and endearing resort that just feels that bit different – in a good way from the others.

The single family homes come in a variety of shapes and sizes and there is a section that overlooks the bird sanctuary and lake that cannot fail to impress even the most discerning visitor.
If it's an inexpensively priced single family home in a stable and secure community that attracts a loyal and enthusiastic clientele then Lake Berkley is a wonderful option for both long term and short term returns. Add Lake Berkley to your shopping list when looking for SFH investments in Orlando.
Lake Berkley continues on is course as a resort that appeals to the owners and guests who are looking for a more laid back location and continues to be very successful in the genre.
Lake Berkley Homes for Sale